Following the military coup in 1962 and "Burmese way to Socialism" imposed by General Ne Win, millions of people from Myanmar fled on-going civil conflicts to seek safety in neighbouring countries such as Malaysia, Singapore, Bangladesh, China, India, and mostly in Thailand, where half of the diaspora are living for five decades.
According to the European Union Global Diaspora Facility (EUDiF), there are officially 3.7 millions (6.8% of total population) of Myanmar people residing abroad. Many Burmese migrants are workers in the tourism, construction, domestic help, agricultural and fishing industries, as well as university students, teachers and entrepreneurs, contributing tremendously to the Thai economy.
Around 80,000 to 90,000 people have been living in limbo in the nine refugee camps along the border since the mid-1980's, unable to return to Myanmar but unable to work in Thailand. People who fled more recently survive under tents in informal settlements on the banks of the Moei river separating the two countries, every time a land attack or airstrike hits their village in the ethnic states. This exodus induced by the junta's persecution of civilians in Myanmar has intensified since the military coup in February 2021. In the one-year following the seizure of power by the junta, the Thai government estimated that 17,000 Myanmar refugees had crossed into Thailand but NGO consider this number as a vast estimate.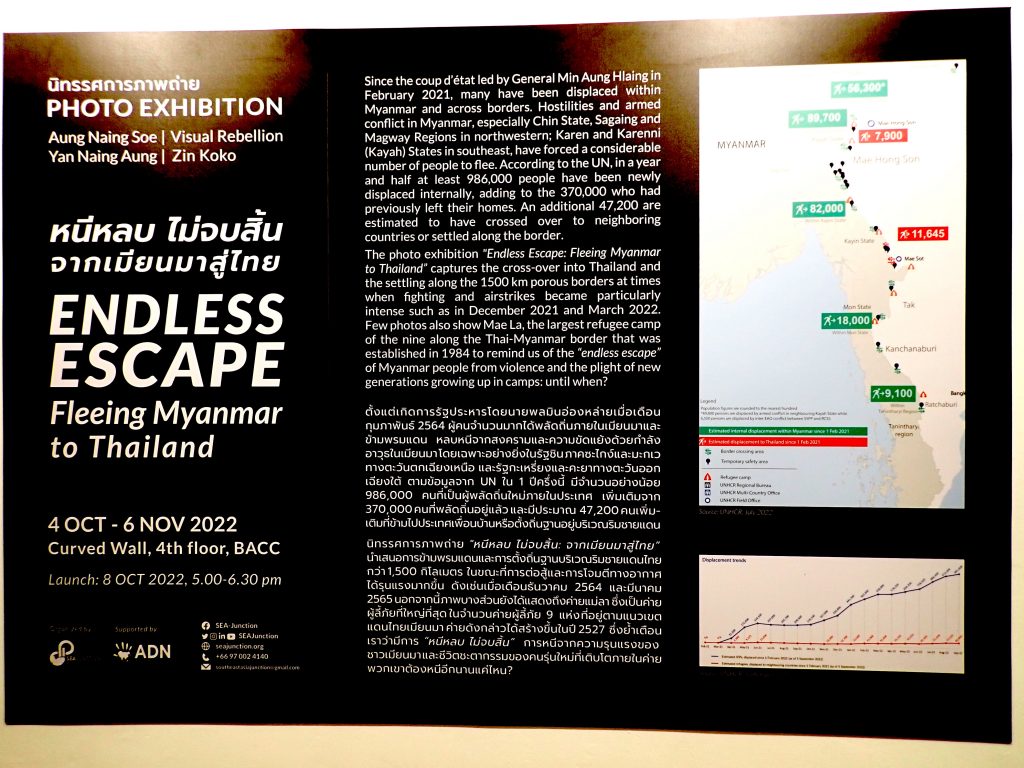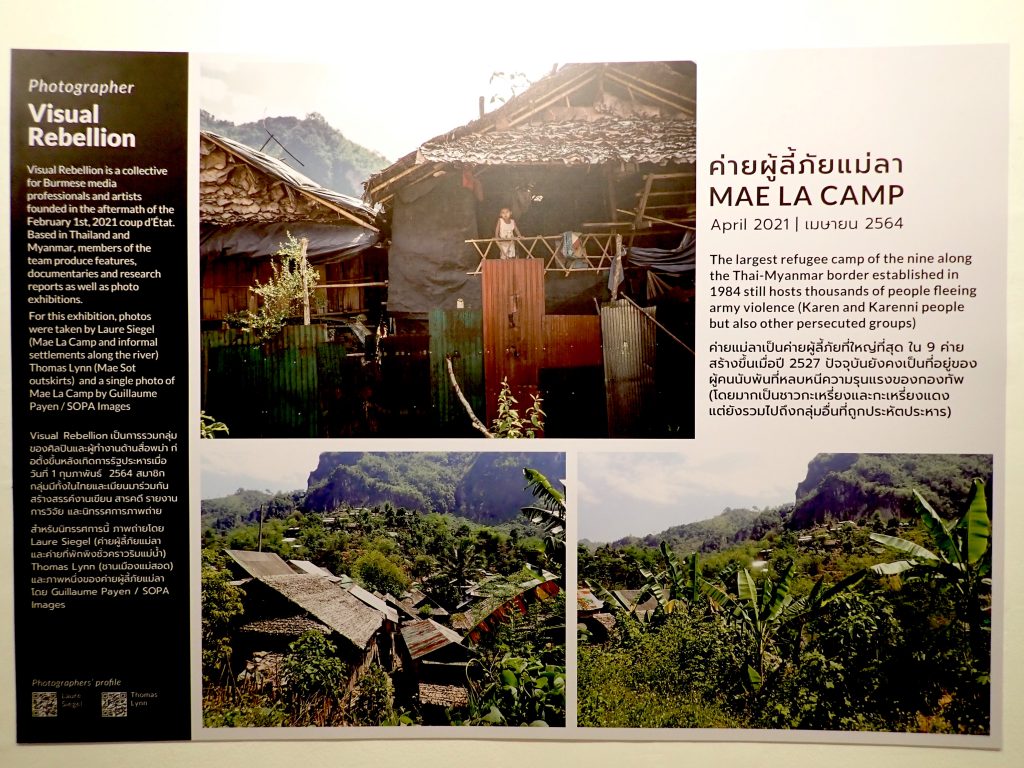 "Endless Escape: Fleeing Myanmar to Thailand"
In collaboration with Asia Democracy Network – ADN , SEA-Junction is holding a photo exhibition documenting the lives of displaced people, the existing and extended places of refuge along the
–
border.
Visual Rebellion Myanmar contributed documented photographs from Mae La refugee camp, informal settlements in Myawaddy area as well as food donations being prepared and delivered across Moei river for the internally displaced people in Kayah state.
The exhibition also includes great work from photographers Aung Naing Soe, Yan Naing Aung and Zin Ko Ko and proposes a catalog and postcards for sale.
You can watch the replay of the launching event with an insightful presentation of Patrick Phongsathorn, Human Rights Advocacy Specialist at Fortify Rights, and three of the photographers sharing their experience on the ground.
You can visit the exhibition from October 4th to November 6th, 2022 on the 4th floor of the Bangkok Art And Culture Centre (Bacc), Thailand.