From April 26th to May 8th, 2022, the exhibition "Stand for Democracy in Myanmar" was organized at the Bangkok Art and Cultural Center (BACC) by SEA-Junction and Art for Human rights. The colorful artworks showed solidarity from international artistic communities with the people in Myanmar and that resistance has no boundary.
"In 1962, my country suffered a military coup d'Etat. The regime lasted seven years and thousands of people resisted. My brother went missing at that time. I'm both the artist and the victim. Culture can help to grieve and open opportunities for discussion." said Marcelo Brodsky during the launch event. 
Marcelo Brodsky is an Argentinian photographer, visual artist and human rights activist who altered news agency pictures from the anti-coup revolution in Myanmar with his own painting style and words. Each panel represents a different aspect of the pro-democracy movement, from the LGBT+ community involvement to the medical workers' strike, to the youth urban guerilla to the monks' uprising. 
Thousands of people came to visit the exhibition and were invited to write messages on post-it and stick it between the panels, creating a temporary collaborative wall of thoughts for a better and fairer world. After two weeks, 2226 post-it in English, Thai, Burmese, Chinese, Korean, French or Spanish languages were gathered by the SEA-Junction team, an incredible source of collective political memory. We translated some of it below, following our vision of Thai-Myanmar solidarity.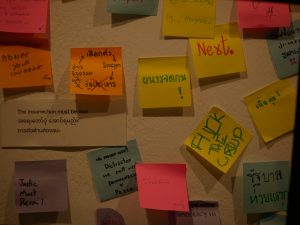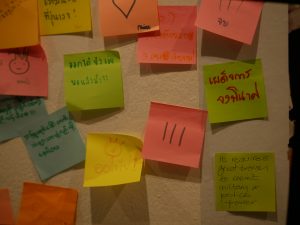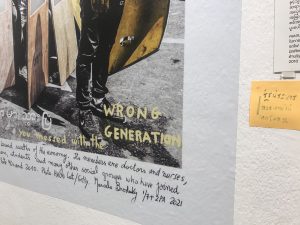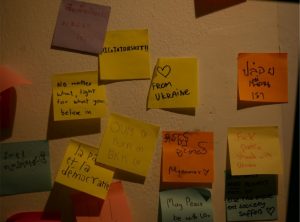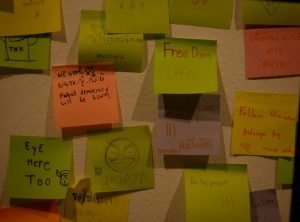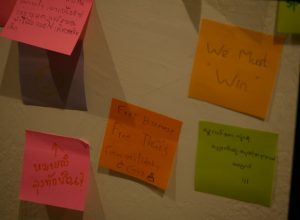 For those who missed the exhibition, you can visit Marcelo Brodsky website in English and Spanish or watch the TV report by Thai PBS on the exhibition in Thai. 
SEA-Junction is now calling Burmese people who live in Myanmar to share their personal experiences on life under the coup with the goal of creating a collective diary. You can read more details here in English and Burmese. We are honoured to have made a small contribution by providing the cover picture for the project, a picture of flooding in Rakhine state in the summer of 2021 taken by one of our photographers.