YANGON // On July 7th, many protests happened around Myanmar to mark the 60th anniversary of the 1962 revolutionary student strike. The "Seven July" uprising was one of the first mass movement to oppose the military coup by General Ne Win's junta in March earlier that year.
On that day, the military injured and killed hundreds of students by opening fire with Jithree automatic rifles that had never been used before on the battlefield Shortly afterward, Ne Win addressed the nation in a five-minute radio speech which concluded with the statement: "If these disturbances were made to challenge us, I have to declare that we will fight sword with sword and spear with spear." ("dah go dah gyin, hlan go hlan gyin") Responsible for the dramatic sabotage of the country, dictator Ne Win had already attempted to contain campus unrest by ordering the relocation of universities away from the city centers and the destruction of the Student Union building with dynamite.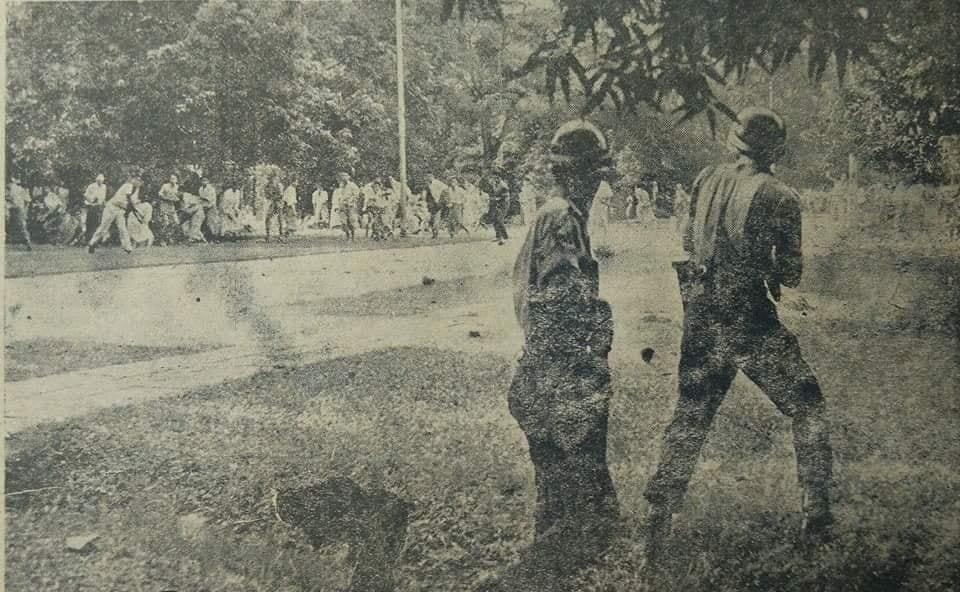 From the anti-colonial impulse of the 1920s to the current CDM, through the anti-junta demonstrations of the early 1960s, faculty and student organizations have been at the forefront of pro-democracy mobilizations, but also of repression. The dikes of terror and propaganda have again broken down in the face of popular anger and the new generation tries to fight for their future by learning from the past.
Before the coup, people's interest in the "Seven July" event was very limited, but since then, people have started to inform themselves about it. Demonstrators in the cities but also People Defence Forces (PDF) in the forest commemorated the historical event and some paid a high price for organizing those remembrance activities.
In the morning in Yangon, ten young people, including one woman, were arrested near the elevator of the north gate of Shwedagon Pagoda because they took photos with their three fingers raised. In the evening, a group of young protesters was hit by a car and crushed at Thukha Station in Hlaing Township.
Deaths on the other side were also recorded on this day. At 9.30 am in Thingangyun Township,Yangon, two heads of households called Ye Htut and Zaw Tun, who lived in 11th and 6th Streets of Yangon Thit Ward, were shot dead by men on a motorcycle while sitting in at the Shwe Kyar tea shop at the top of Aung Zeya (5) road. The two men were known in the area as pro-military informants ('Dalan') according to local residents.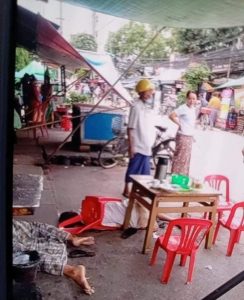 Aung Soe Lin, representative of the military council in Zarap Phyu Village, KyaukSe Township, Mandalay Region, was shot and killed at 3:00 p.m as he was going to pick up his daughter from school "I don't know which organization did it. The body was taken to the hospital," said a local.
Additionally, the charity Save the Children said there were at least 260 attacks on schools between May 2021 and April 2022, with "explosions in and around school buildings" accounting for nearly three-quarters of the incidents.
Many young people have stopped attending the official education system, citing it as a curriculum designed by the junta that carries distorted facts and discriminating views. They seek alternative education, by trying to get a scholarship to study abroad, mainly in Thailand universities, joining ethnic schools and enrolling in online courses such as the NUG's Spring University if they can still secure a stable Internet connection. Like in the aftermath of the pro-democracy protests in 1988, thousands of youths also choose to give up momentarily their education to join guerilla groups in the jungle or People's Defense Forces.
"The education we've been receiving is designed by the dictatorship to spawn army slaves so it has pushed us to boycott this 'military slave education'," said the 17 years old president of the Myitkyina Basic Education Student Union to our partner "From Our Place to Frontline" zine. "The military dictatorships has murdered thousands of students and has reopened schools and universities to make the wheels of their bureaucracy turn. We will not be going to school through the very doors swung open by bloodstained hands."
But when a new school year started in June this year, Burmese students, their parents and teachers were faced with a dilemma. On social media channels, conflict between students still engaged in the CDM and those who choose or were forced by their parents to go back to school raged on. "School has been closed for almost three years. First I was part of the CDM but to get a job I need a degree. Every position requires at least one degree and I need one job to keep surviving. We don't know how long this situation will take," said a college final year student.
Another university student, Yoon Yoon wanted to join the Civil Disobedience Movement (CDM), but she was forced to go back to study by her parents and relatives. "I didn't want to be here. I tried to refuse, but I couldn't. I'm distressed," she said. She is now living on a university campus in Pyay. If she has escaped for now the ongoing conflict with her family, it's only to be faced by the overwhelming military presence in every educational institution: "I am scared by all the soldiers camping outside of our school".
Over 9.7 million state school  students enrolled in the 2019 – 2020 year according to the Ministry of Education Myanmar and there were no students in the 2020 – 2021 year because of Covid – 19. In 2021-2022, only 2.3. million students enrolled in state school and 3.3 million state school in the 2022 – 2023 year. As the conflict is dragging on, one year and a half after the coup d'Etat, more than four million children—half of the school-aged children in Myanmar—have not accessed education for two full academic years and 250,000 are internally displaced.