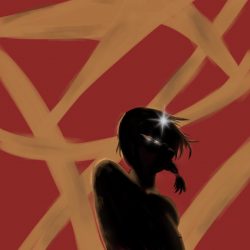 "My plan is to shout at the world with one picture"
I choose to be a cartoonist right after our democracy was seized away. I started feeling that my plan to shout at the world with one picture was becoming important.
The first cartoon I drew was about students engaged in the Civil Disobedience Movement, to point that they have lost not only their education but also their future.
My favorite project is to draw avatars for the profiles of Visual Rebellion members, who are brave soldiers fighting for our country in the field of information.
The hardest cartoon I had to produce was about the young people who were protesting peacefully on the street in Yangon in remembrance of the 1962 students uprising on July 7th, 2022, when they were hit by a car. (see news)
I felt so mad and sorry for them that I couldn't even draw for some time.
The risks I face are nothing compared to the People Defense Forces who are ready to give their lives fighting the junta's army in war zones. If the regime ever catches me, I will proudly going to jail as it would be just for cartoons that they can't even deal with.
I only have my phone and pen while working on those projects. I have a lot of doubts, always thinking my cartoons wouldn't be good enough to show. If I had a full set of drawing materials, I might be able to do better.
I think the power I hold is to be able to describe a whole situation in one picture for all people who don't understand but want to know what is happening in Myanmar.
My professional ambition is to become a digital / 3D artist and to create not only just cartoon but also all kinds of animation, to fully use my imagination and reality space in our complicated worl