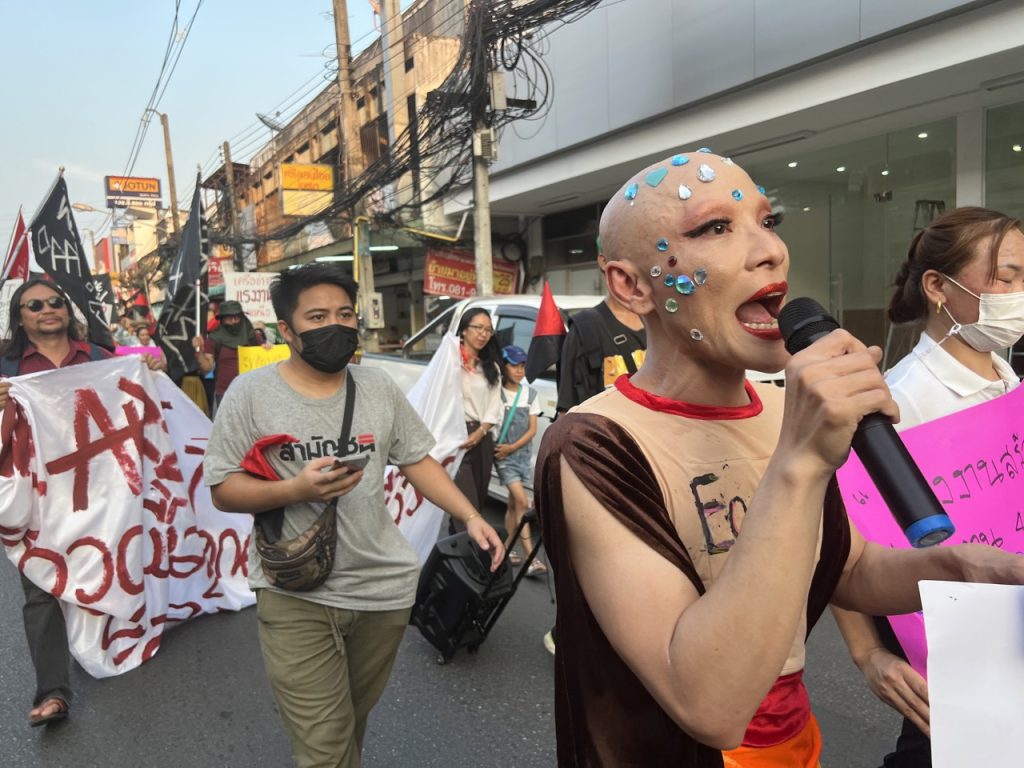 Workers Demand Labor Rights For All In Thailand
MAY 1st 2023 // To mark International Workers' Day, hundreds of migrant workers from Myanmar marched in the streets of Bangkok and Chiang Mai along with Thai activists in a show of unity.
BANGKOK // In the Thai capital, the Network of Workers for the People, a pro-democracy labor movement, marched in the morning from Democracy Monument to the Government House, calling for better welfare for workers and the removal of military leaders from the government. At 4 PM, a cortege of 300 people started from Ratchaprasong junction, a popular shopping and business downtown area. After walking for 1,3 km, they gathered at the Bangkok Art & Culture Centre where they celebrated Labour Day by giving speeches, singing songs, and setting up information booths related to workers' movements. These ranged from establishing adequate welfare and recognizing sex work as legitimate work to addressing the challenges faced by migrant workers. Participants from Myanmar also took the opportunity to shout for democracy and justice, as doing so in their home country carries life-threatening risks since the February 1st, 2021 military coup d'Etat in Nay Pyi Daw. The activities were organized by the Workers' Union and Bright Future, respectively umbrella networks for Thai and Burmese workers.
Sombath Waen Kaew, president of the JOYSON-TOA Workers' Union, which represents 900 workers from the automobile industry, traveled from the eastern industrial zone of Thailand to join the celebration with some of his union board members. He said that there are also Myanmar migrant workers in his company. Contrary to many people's prejudices, he never thought that they would take over Thai workers' career opportunities.
"Migrant workers are a normal phenomenon everywhere, even we Thai people want to work abroad. We all want better pay. People are also quick to forget that migrant workers help fulfill the work that Thai people don't want to do."
To this day, migrant workers and gig workers cannot form a union under Thai law. Additionally, the law does not allow general unions where workers from different sectors can unite collectively. Despite being a founding member of the International Labour Organization (ILO), Thailand has not ratified conventions 87 and 98, which recognize the freedom of association and the right to collective bargaining. "Everyone should be able to set up their union and voice up their demands" insisted Sombath.
Throughout Thai history, the celebration of May Day has been intermittently suspended by military coups. Labour activists held the first recorded celebration of May Day in Thailand in 1946. The idea gained traction the following year when thousands of workers joined in. However, a few months later, the military staged a coup d'etat and prohibited the celebration for years to come. It was recognised as a public holiday for those who work in the private sector almost thirty years later.
Listen to our interview with Ko Chitko, leader of The New Generation Youths, who organised the Bangkok protest. He spoke out against the unfair treatment of Myanmar workers in Thailand, including unpaid wages, forced overtime, and passport confiscation. 
CHIANG MAI // The Northern Labor Network organized a May Day Unity March that was attended by 200 Thai and Myanmar politically active people, such as migrant workers, sex workers, student activists, anarchist groups, and LGBTQ+ communities. MAP, BEAM Education, Empower Foundation, ECPAT and HRDF foundations are part of this network. 
After marching through the Old Town and the party-touristic streets, they gather in Le Dta Wan Food Market to hear speeches and watch art performances. The event concluded with a list of recommendations to political parties for better labor, immigration, and anti-discrimination laws as the national elections were held two weeks later. The Democrat Party, Bumjaithai, Seri Ruam Thai, Move Forward, The Commoners, and Palang Pracharat attended the event.  For the past nine years since the 2014 military coup in Bangkok, Thailand has made no progress in ensuring the right to associate and form labor unions.
We stand in support with all workers fighting for their rights around the world and for a just and dignified future for all.
 ==> You can read
here
our coverage of May Day 2022 in Bangkok.