Beneath the blackened sky, a burning grief for electricity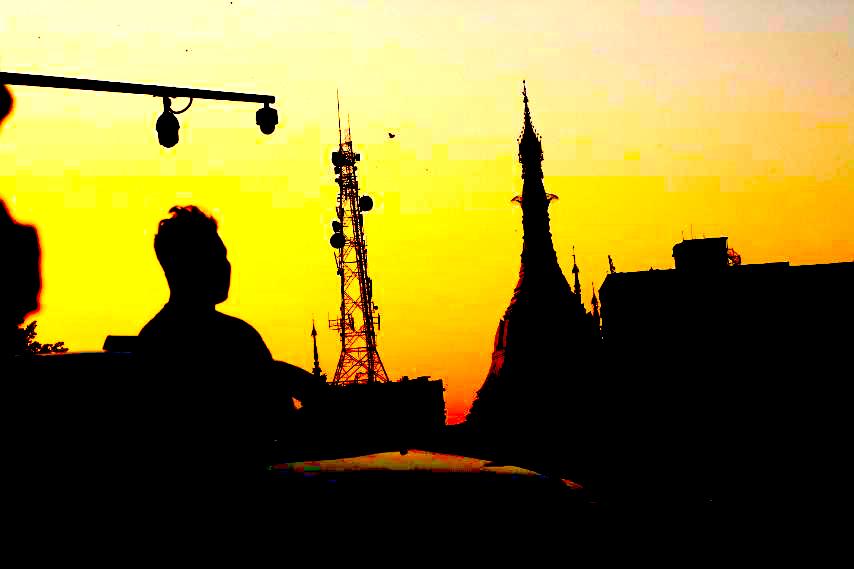 Story and Pictures by Ya Lay
YANGON // "Turn on and turn off like a disco light".
This is how consumers who are using the public electricity by rotations are feeling in the economic hub and main city of Myanmar. If there is none or only a few hours of electricity per day, urban life cannot run properly. This year, the weather in Yangon is terribly hot, reaching 40°C, causing people to suffer heat stroke and shock. Many people needed to get treatments and were hospitalized in the hospitals of Yangon region and some even died. In the burning cities, people are living without cooling system day and night, which makes it very difficult to work, study and sleep. People become unwell, unfit and frustrated because of the lack of rest. Psychological impacts include lack of control over one's moods, feelings and actions.
Ko Tun Tun originates from Ayeyarwaddy Region and moved to Yangon for work. "We can't sleep at night time because it is so hot. So we can't go to work in the morning. It is neither about a specific day nor a particular time as it has been like this for a long time. Our bodies and even our jobs are affected. It is not easy to get back to the good old days when we enjoyed full electricity" he said.
Daw Thandar, who is working in bustling San Chaung district, Yangon, said that "We need to be in the office for eight hours. Day by day, access to electricity switch from morning to afternoon sections. When the electricity is turned off at 1 pm, all work is paused until 5 pm. When the electricity is off in the morning, we all need to wait until 1 pm to turn on the electricity again. Without electricity, our industries and works cannot run and our products are delayed."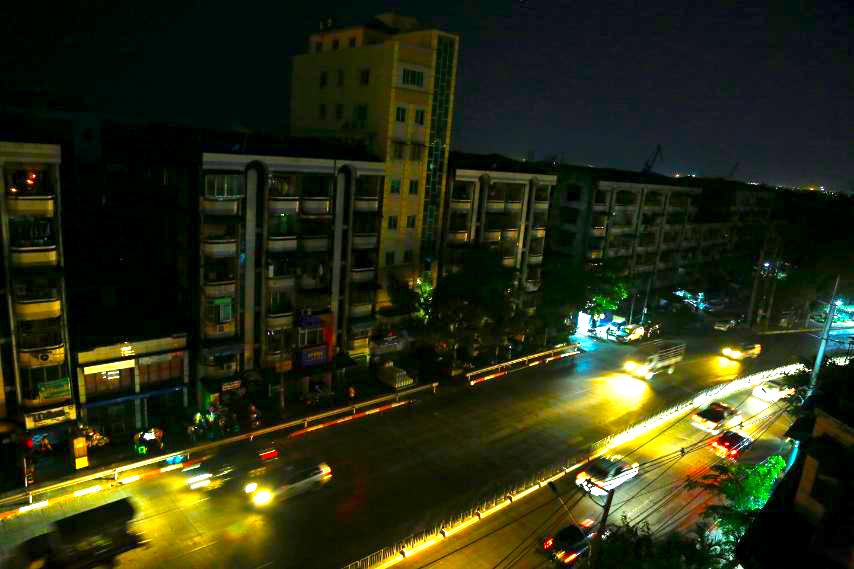 Myanmar poor people's lives became miserable due to the military coup. They now feel that they are jumping into a deep abyss, and that the loss of their future is a dark promise. They have to use electricity part-time according to daily load reduction lists, so they are living in an alternating light and dim reality. People are struggling to survive just for a day and then another day, with only a hope of improvement in the faraway distance.
The Department of Rural Development, with the help of the World Bank Group, is planning to provide electricity to the entire country by 2030, according to information released by the National Electrification Plan (NEP). The project was drafted in 2013 and started in May 2016. According to the roadmap, 50% of this project should have been completed in 2020 and 75% should be done by 2025. The World Bank approved a low-interest loan of US$400 million in the first five years of the project, US$300 million for the further expansion of the power grid and US$10 million for technical assistance. The Ministry of Electric Power (MEP), the Ministry of Agriculture, Livestock and Irrigation and the Department of Rural Development held the responsibility for the off-grid system.
The terribly poor management of the military council more than two years after it seized power in a coup was evident in its inability to provide full-time access to electricity to people, which is a basic need. According to the social media pages of the Yangon Electricity Promotion Corporation (YESC) call center, in charge of informing the public on behalf of the MEP, 44 % of Myanmar's production comes from large-scale hydropower, 52 % from natural gas, and 4 % is generated by coal, solar and small-scale hydropower.
Because of the big chunk of electricity produced by hydropower, the Ministry argues that before and after the rainy season, less water flows through the rivers, thus electricity has to be cut off regularly and people have to adapt to the rotated lighting system.
The YESC, which has not been able to provide enough electricity since the coup, announced in April 2023 that they would like to buy excess electricity from solar systems installed on citizens' private land. The YESC said that if the Ministry's distribution grids want to resell surplus electricity from those systems, which have been providing the offices and homes that have installed their own solar panels, they would buy it according to the MEP's rules and regulations. The price of this excess electricity is set at 85 MMK per unit from 100 KW to 1 MW and 80 MMK from 1 MW to 10MW. An energy researcher from Yangon says: "Not many people can afford to set up a system to fill the electricity needs of their entire household, let alone produce excess electricity. They have to buy adequate number of solar panels but also the storage capacity and lifespan of the batteries, which are the main expenses."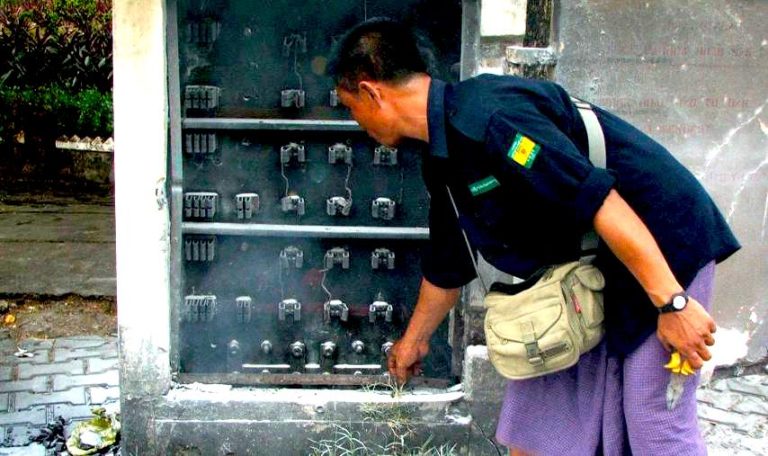 It is an understatement to say that this mismanagement by the military officials caused a stir among the public. The Ministry of Electric Power under the military council often says in its meetings that electricity must be used sparingly. It estimates that energy consumption should be reduced by 20% in 2030 compared to year 2012. Under former president U Thein Sein's tenure (2011-2016), Myanmar started a nationwide electric power supply plan, that managed to increase electricity supply every year and was supposed to be completed in 2030.
But after the military coup in 2021, things went downhill and people can only access intermittent electricity, despite the start of the rainy season two months ago.  The Ministry of Electric Power reported that, even though it cannot manage to supply enough electricity domestically, it tries to reach its goals due to international agreements and bonds based on renewable energy resources. Therefore, they are planning to develop renewable energy sources such as solar and wind power generations.
The Union Minister of the military council U Aung Than Oo said that, "By the year 2030, we are working towards 9 % of the electricity production that will be produced from solar and wind power energy".
In addition, they claim to work on the development of floating and rooftop solar projects. The reality seems to be that all those projects are connected to trade to neighbouring countries such as China, India, Laos and Thailand. Inside Myanmar, people spend money to privately buying the electricity produced in their country and still, only get it intermittently.
Ma Yi Mon, who has to pay a large amount of money for 24 hours electricity service in Myeik, the largest city in southern Tanintharyi Region, said that " I'm really angry that we are not providing enough electricity inside our own country but rather sell it to other countries. I want our people in country to be served first and then sell the surplus. Now, even if I only use one air conditioning unit, the monthly electricity bill rises up to 300 000 MMK (USD 145). In Yangon, a house using up to five air-con units is charged 100 000 MMK (USD 48). Some people living in Dawei or Myeik have to pay 300 000 MMK for the use of a single fan. Even though we have 24 hours electricity, we can't even turn on the air-con. I had to save to pay the electric bill".  
Myeik residents were charged 500 MMK (USD 0,25) per unit in 2021, a rate that jumped to 1076 MMK (USF 0,50) in 2023. The countryside and rural areas are suffering even more.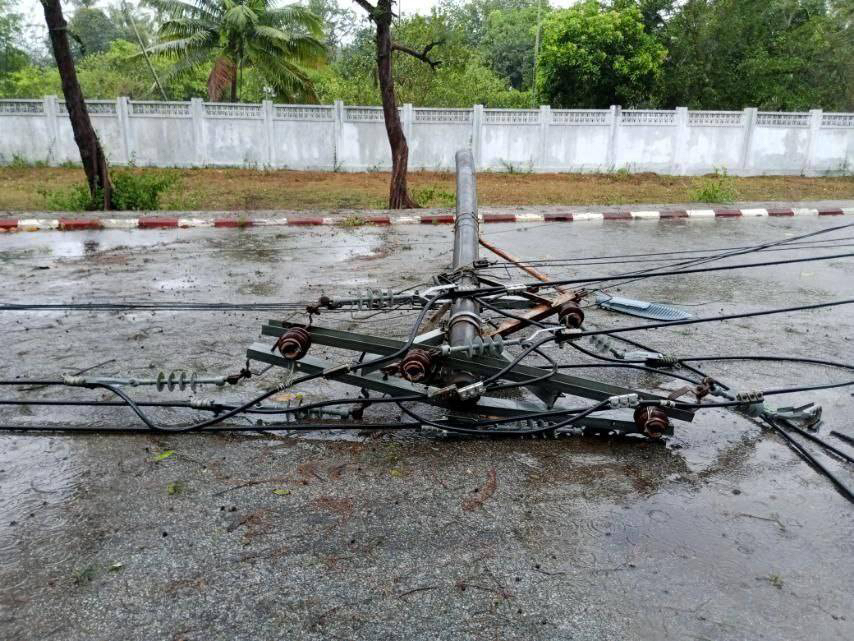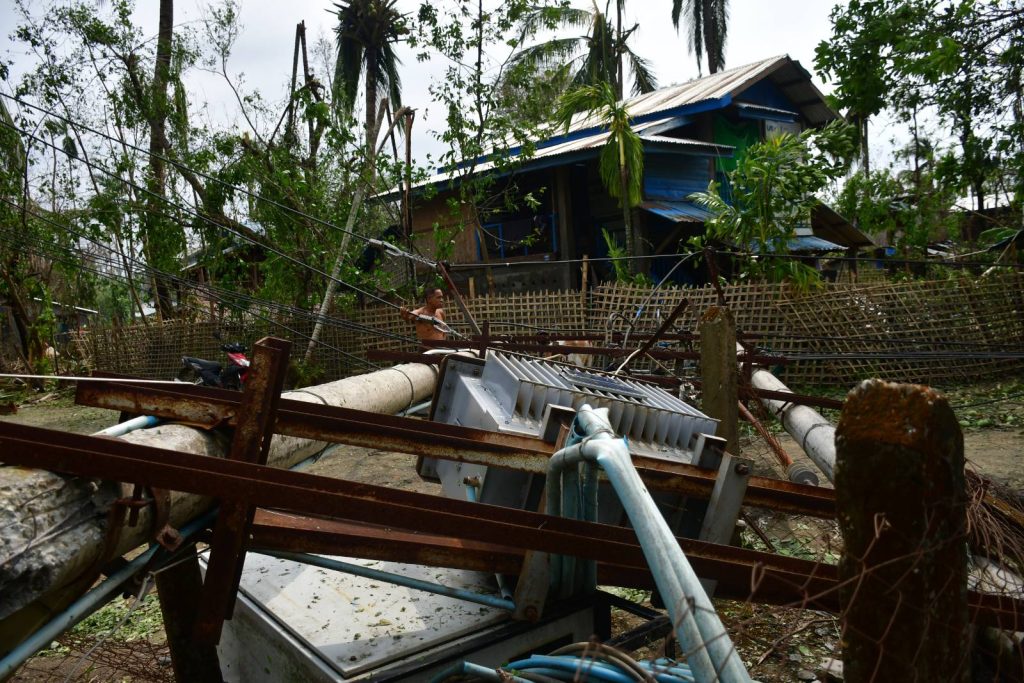 Following the saying "bad luck never comes alone",  Myanmar was recently hit by Cyclone Mocha that caused many electricity towers to fall down across the country. A resident of Thanlyin Township in Yangon confirmed that some leaders of his block are collecting 10 000 MMK (USD 5) per household to finance the repairing the power lines, which were damaged by the storm on May 15th. "Because it is a very critical period, the local officials need to solve it as soon as possible. But the authority of the district electric power office claimed that they didn't ask for any donation".
Since the military coup, it is difficult to obtain the information that the public should have a right to know, so when people contacted the ministries in charge, there was no response. The information is now under the full control of the military administration. When contacted, the Ministry of Electricity and Energy didn't answer either our reporter's questions about access to electricity policies.
People are losing patience. With the rising tides due to Cyclone Mocha, their level of anxiety is growing. The straw that draws the camel's back was a global outage in Yangon on May 23rd this year.
Naing, a famous composer nicknamed 'Byu Har' criticized coup-maker General Min Aung Hlaing and his armada for their lack of responsibility in a live video published on his Facebook page. He was arrested under section 505a, tortured and detained by military troops. His picture where he appeared severely wounded was posted on pro-military social media pages and the ground that he disrespected state's honour. In his video, 'Byu Har' said that, "In Yangon, electricity is supposed to be provided on a five-hours rotation and even with this system, they managed to do a shit thing for the people". According to reports in state-owned newspapers, he was prosecuted for the content of this speech.
The YESC Call Center has claimed that due to attacks and destruction of power lines in areas where there is still no peace, security and stability, the demand for power is further increasing every year.
The real reason for power outages is that the military administration does not have yet the technology or management skills to produce enough electricity, leading to people experiencing long-term problems. Along with the public announcements by the ministry about electricity shortages and measures to replenish it, the possibility of bribing authorities to get 24- hour electricity became widespread. "There is an unlimited plan for electricity consumption that costs 4 lakhs MMK (USD 190) for a room. We cannot bargain to pay monthly like usual. But after the first year has been paid, the payment system can be adjusted." said a person who wishes to stay anonymous and subscribed to this black market solution.
"In addition, workers at the electricity department can be bribed to reinstall and rearrange the electric-meter to show a small amount of money. So that it only costs a few thousand kyats per month", said Daw Moe Moe, a resident of Thin Gan Kyun Township.
Despite the fact that the YESC appealed to the public not to use the electricity in an illegal way, the fraud happening on the ground is a crime that cannot be committed without the complicity of the department's employees, so if anyone, only the latter should be prosecuted.
"The electricity bill of my house is low now. Before I knew it, my wife told me that the employee came to persuade her to organise this scheme. So I did it because the electricity bill got cheaper than before. But I paid my actual bill before we set it up because it you choose the low cost option now, in the future if the department checks, you will still need to pay back all that you had used. And unfortunately, if such thing happens, you won't be able to manage with money but you might have to face jail", said a resident of Dagon Port Township.
Paying the electricity bill monthly without being able to consume it regularly remains a mandatory responsibility for the urban dwellers. Ko Pyay Zin said, "Resisting and braving the summer heat, with sweat pouring down from my back, I entered the crowd and stood and lined up for almost an hour to pay my bill. I remember that the night beforehand, the electricity got cut off due to reducing and adjusting power load. It was terribly hot. Without electricity and such few windows, one can't live in Yangon's crowded buildings and apartments, as it is very hard to get fresh air. Our summer life feels like a life in hell. I couldn't sleep until dawn. When I regained consciousness I clutched the electric meter bill sheet in my hand and went to pay it."
Ko Pyay Zin is not the only person who is burning with grief and anger. Like him there are a lot of people who will have to wait to pay their electric meter bill, which seems like giving a kiss to someone one doesn't love.