After two years of darkness, a Sagaing village goes up in flames
Sagaing Division // Many people in Myanmar are losing access to electricity, a recurring fact throughout the country's tumultuous history. Since it seized power in February 2021, the military junta has cut off internet connections and electricity lines on purpose to extract concessions from a population disgruntled by the national situation. Last year, Visual Rebellion paid homage to Ko Aung Aung, a Mandalay resident who set himself on fire to protest against the return of darkness. 
Youth around the world need consistent access to electricity and a stable internet connection generation to learn, record or share new information. Since the Industrial Revolution, the discovery of electricity has had the greatest impact on human lifestyle. Two years after the coup on February 1st, people from a village in Sagaing Division told us their stories of struggle amidst such ongoing basic privation. Three weeks later, the village was burned to the ground by junta soldiers.

Ma Hnin Si*, 24 years old, often greets her friends with the question "Which movies have you seen recently?" This question is popular among the youth around her age in her village. For entertainment, Ma Hnin Si and her friends usually download movies from India, Thailand, China, and Korea, or they watch television series with Burmese language subtitles. They can only do this by accessing the internet in nearby Shwebo city. 
Along with Kalay, Sagaing, and Monywa, Shwebo city is one of four cities left with internet access in the Sagaing Division. Many areas of townships in the region have had their internet connection access cut off since September 2021 and the electricity has been cut off in 22 villages in Shwebo township since December 2021. Ma Hnin Si resides in one of these villages. 
With her friends, they make sure to download the movies they love whenever they go to Shwebo city. "The movies are downloaded at my friend's house in Shwebo city. Wifi is available there so there is no need to spend money on mobile data," said Ma Hnin Si.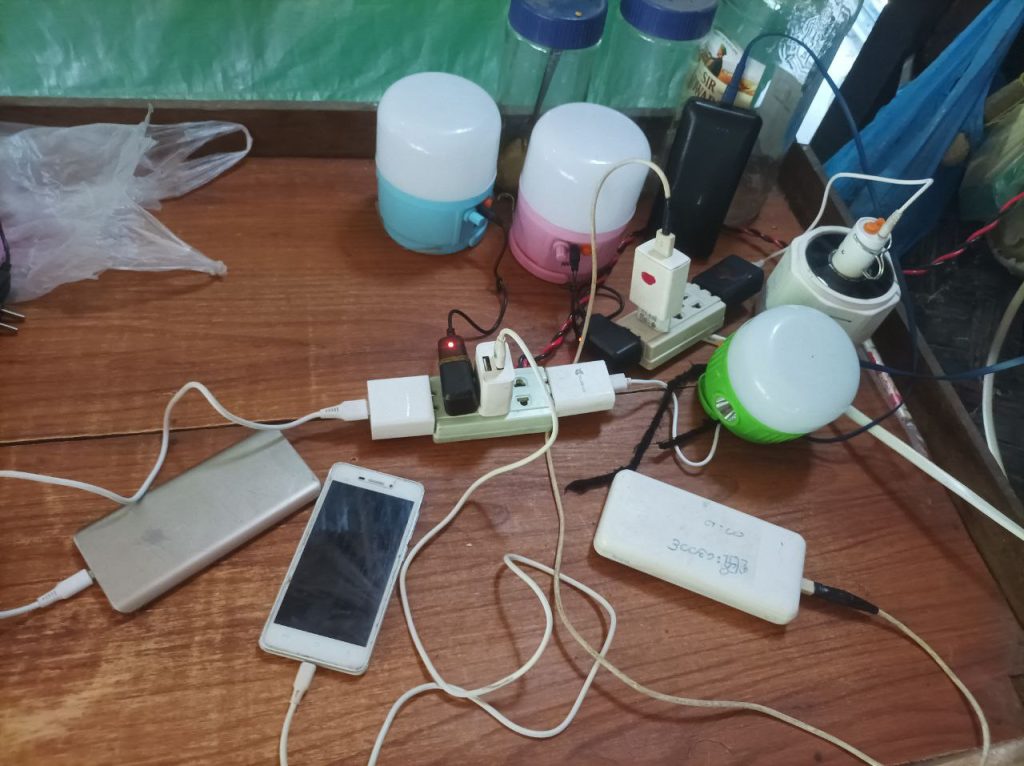 However, traveling to Shwebo city is not easy. It takes her about an hour to arrive by motorbike from her village and she needs to pass Seikkon police station on the way. Sometimes, in front of this station, junta soldiers check the civilians passing on a vehicle for no reason, ask them for bribe money or confiscate their vehicles. At those check-points, local women claimed that the soldiers engaged in cat talk or harassment. Ma Hnin Si and her female friends hate to drive in front of this station alone as they are afraid to face the soldiers.  
She cannot easily move to a location with greater internet access due to being employed in her home village. Ma Hnin Si works as a weaver at a loom weaving factory, the preeminent occupation for most of the residents of her village. She can work with both modern weaving machines and she can weave the traditional way. Currently, she is working in a loom weaving factory in which weaving machines are used for production. 
For the ones fortunate enough to work in such factories, their workplaces are also where they can charge their phones and power banks thanks to the energy produced by the weaving machines. Whenever Ma Hnin Si goes to work, she takes power banks from her home to charge at the factory. 
But this is an unsustainable way to access electricity. Many weaving factories left when the electricity access was cut off in the 22 villages. Another issue is that many of the remaining factories keep their machines running with a generator. Maintaining working generators requires gasoline. This is especially costly due to gasoline prices rising three times post-coup. The village's unemployment rate is high due to the factories that left. It might even rise higher if the factories seek to counteract the increasing cost of gasoline.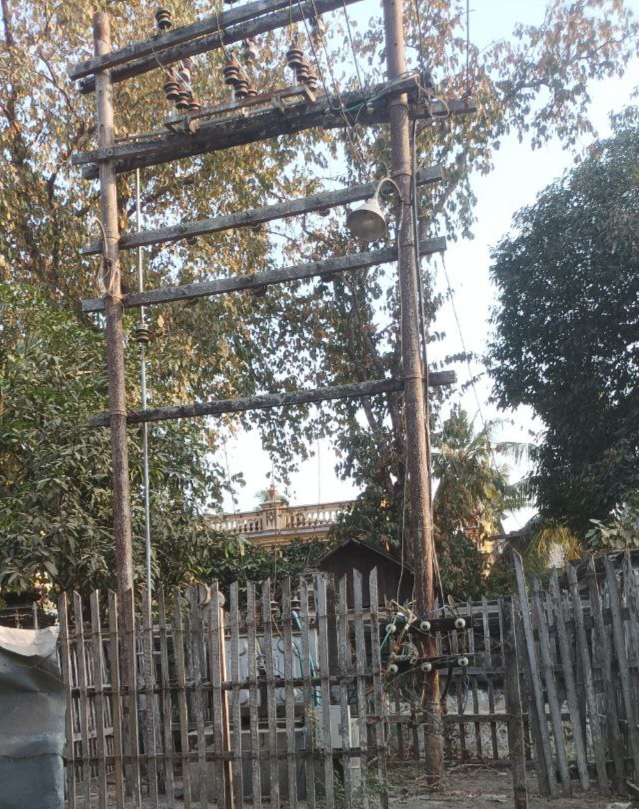 Maung Maung*, a neighbor of Ma Hnin Si and a member of the local People's defense force (PDF) of Shwebo township, said that the electricity being cut off is not an entirely new experience for him and other locals. There is a long history of the township struggling to gain access to electricity. According to him, the village initially gained electricity during the Japanese colonial period (1942-1945) but the issue arose that it was not easily accessible. Electricity was only available one or two hours per day and the main energy sources in the village still came from traditional methods such as candlesticks and generators. Around 2015, at the start of the National League for Democracy (NLD) leadership, electricity became widely available 24 hours per day. And in situations when the electricity would be off, the government informed people beforehand.
Internet access in those villages became available for most people at the same period around 2014. After mobile phone SIM cards were mass-produced, they were officially sold for about 1 USD, compared to 2000 USD only five years earlier. SIM cards are important for people in the villages because they rely on mobile data internet as wifi of fiber connections still cannot reach the rural areas of Myanmar. 
"All we want is for the whole country to be lit up, not just having electricity light in our place," said Maung Maung when discussing the deal offered by the junta in order for the restoration of electricity.
His friend Aung Aung* serves as a leader of Alpha 7 local PDF in Shwebo township. He speaks from the perspective of both the local people and revolutionary groups and explained that in late 2022, the military regime tried to reach an agreement. Local representatives from the junta asked for 300 million MMK (145 000 USD) in order to restore electricity in these rural areas. Aung Aung said the local people and revolutionary groups refused the deal, meaning the electricity would continue to be off. 
Solar energy could be one alternative option when the public electricity system is cut-off, but there are many financial and transportation obstacles. Maung Maung said that only a few villagers could install a solar energy system in their houses, especially as unemployment is increasing and income is decreasing for two years in the area. Even them could only afford second-hand equipment. Buying and transporting the necessary equipment is also difficult, because of the soldiers' checkpoints as well as the massive trade disruptions in Sagaing division.
Maung Maung talks about the learning and information difficulties they are encountering, "I do not dare to buy a computer because it is difficult to charge it here anyway. Only the people who are very interested in news outside of the local area put effort into getting news from beyond their village," claims Maung Maung. This creates a situation in which most residents of the village are isolated from the external world. This ignorance of what is happening elsewhere does not help form lines of communication with other people across the country participating in the Spring Revolution. It inhibits the strength of resistance against the government.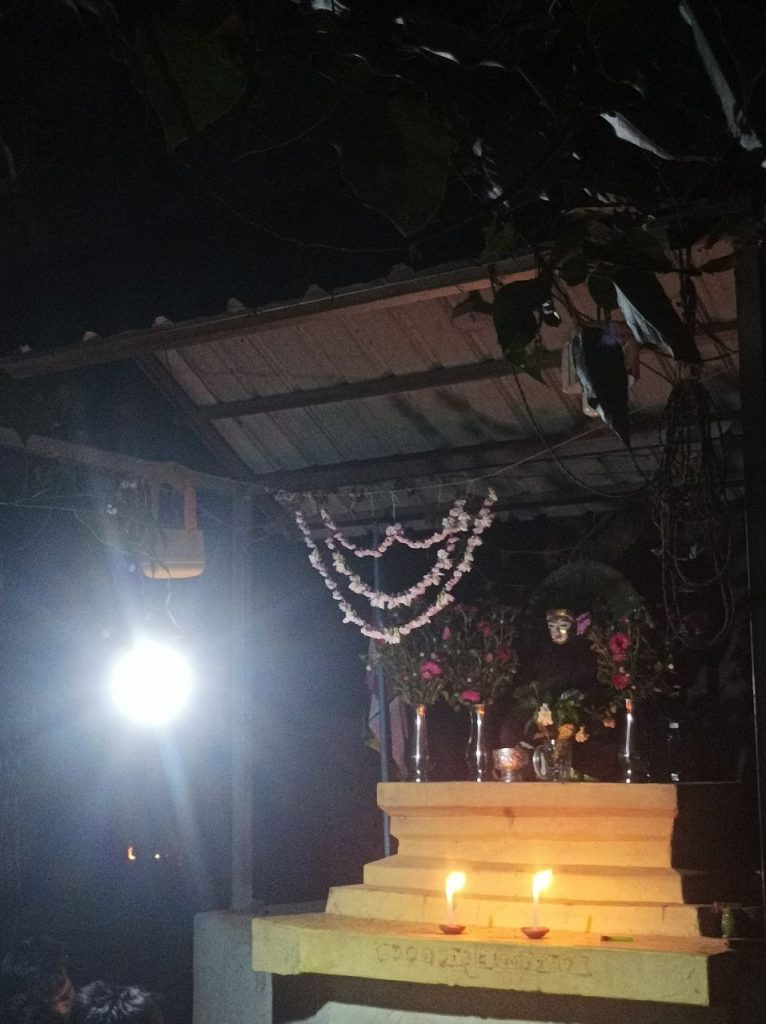 Ko Maung Maung, Ko Aung Aung, and Ma Hnin Si have different occupations but work in the same village. They all have the same desire of getting electricity and internet connection without submitting to the outrageous bribes demanded by the military junta. Crucial to the development of this issue is checking whether those resisting the soldiers's advances can continue to do so the longer the junta remains in control. 
Three weeks after our team spoke to the interview partners, on February 23rd, 2023, the situation worsened to no end. A column of soldiers fought a local group of People Defense Forces in the vicinity. They moved all civilians to another village. Ten minutes after the PDF retreated because of lack of ammunition, the soldiers entered their village and burnt 120 houses, 30 weaving machines and a thousand baskets of rice seeds that were to be planted for the next harvesting season. 
Almost all of the households owned at least one traditional weaving machine in their compound, which also disappeared in the criminal fire. The two main active weaving factories of the village were destroyed so the employees have now entered the nightmare of employment on top of having lost their houses and possessions. 
Ko Phyo is around 40 and is the father of three children. He lost all of his weaving machines in the fire. He worked as a village based entrepreneur and has now lost his entire business. "My wife has been crying a lot since then. I try to encourage her by saying that we are still young enough to overcome that. But I also cry when she is not around."
He said that he has no back-up money to buy new equipment as the economy is in freefall on a nationwide level since the coup. He is now considering his only option left, which is to find jobs as a daily wage worker in whichever business would hire him.
A member of the local PDF said that some villagers who lost their properties do not want to come back to their village as they cannot stand to look at the destruction of their livelihoods. He said that they try to encourage them to come back by telling them that local PDF and CSO will help them clearing up the ashes as well as setting up resilience and safety strategies. From February 12th to February 21st, 2023, 13 villages in Shwebo district were already burned by the junta, which restarted their scorched-earth campaign on a massive scale in the area. 
* Names have been changed for safety reasons