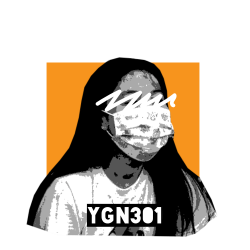 "I am scared but I shall continue anti-dictator artwork in the future"
I am a freelance artist and graphic designer. I self-studied artwork from Hong Kong and Thailand and now I do illustration.
Previously, I focused on women's issues, expressing feminism how I understood it. I never thought of drawing political artwork.
I first heard that Daw Aung San Suu Kyi and President U Win Myint were detained illegally. I saw the news about the looming possibility of a coup but like many people didn't believe it.  I became really concerned when the internet and phone lines were cut off.
My first impression was a feeling of uncertainty – that they were going to rule for a long time. I was born in 1991 and I don't want to return to that time again. Now there are better job opportunities for me. I don't want to lose that and my ability to talk about human rights.
The coup made me so angry that I used my talent for drawing to express my anger.
I drew two or three pictures then one person advised me to use fewer colours so that it will be easier to print. I gave free access to my work so it could be used by anyone.
While volunteering to distribute lunchboxes, I saw a schoolgirl who was holding my poster and it made me very happy. It feels great when I see that people are using my talent. I shall continue the anti-dictator artwork in the future.
To be honest I am scared but rather than staying idle I am standing up for what I believe in and that relieves my fear. I am part of the Civil Disobedience Movement (CDM) along with many people. The new generation is very smart. If we continue in an organised way I think we are going to win.
I would like to encourage the local and international communities to supporting this uprising as well.
Please watch this full interview of the artist by filmmaker YGN201. As she had to go underground after she created posters for the Spring Revolution, she talks about her motivation and inspiration to fight dictatorship.