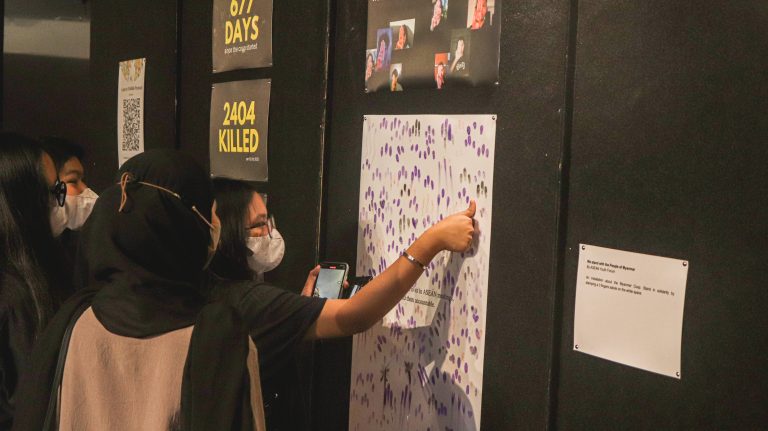 To mark International Human Rights Day on December 10th 2022, the ASEAN Youth Forum (AYF) collective organized two art exhibitions in Jakarta and Bangkok to showcase poetry, essays and illustrations created by regional youth on the theme of "Grief, Loss, and Human Rights".
At the exhibition in Jakarta, the audience could ink-stamp three fingers on a board. The board carried a message in solidarity with the people of Myanmar: "Prohibit military junta from sitting in ASEAN meetings, and hold them accountable" 
Pychita Julinanda, Indonesian curator of the Yuwana Zine, explained that the shared context of third-world history and colonial dominion in Southeast Asia has played an important role in the emotions and memories of their generation: 
"Grief reflects the wider state of injustice we all collectively live through; where you see death haunting every person in poverty, in destruction, in trauma, in military occupation and state-sponsored violence and detainment and police brutality. Don't we, at least, have the right to grieve? To mourn what is lost and to ache for what could have been?"
"And thus, grief is integral within the fight and struggle for justice. To stride further in our pursuit of justice, we must [be able to] grieve, we must [be able to] provide a space for all of us to grieve, we must [be able to] give our support so that we all are enabled to process our grief."
Southeast Asian youths have been constantly calling for justice in Myanmar since a military junta led by General Min Aung Hlaing seized power on February 1st, 2021. Indonesia will chair the ASEAN Union in 2023.