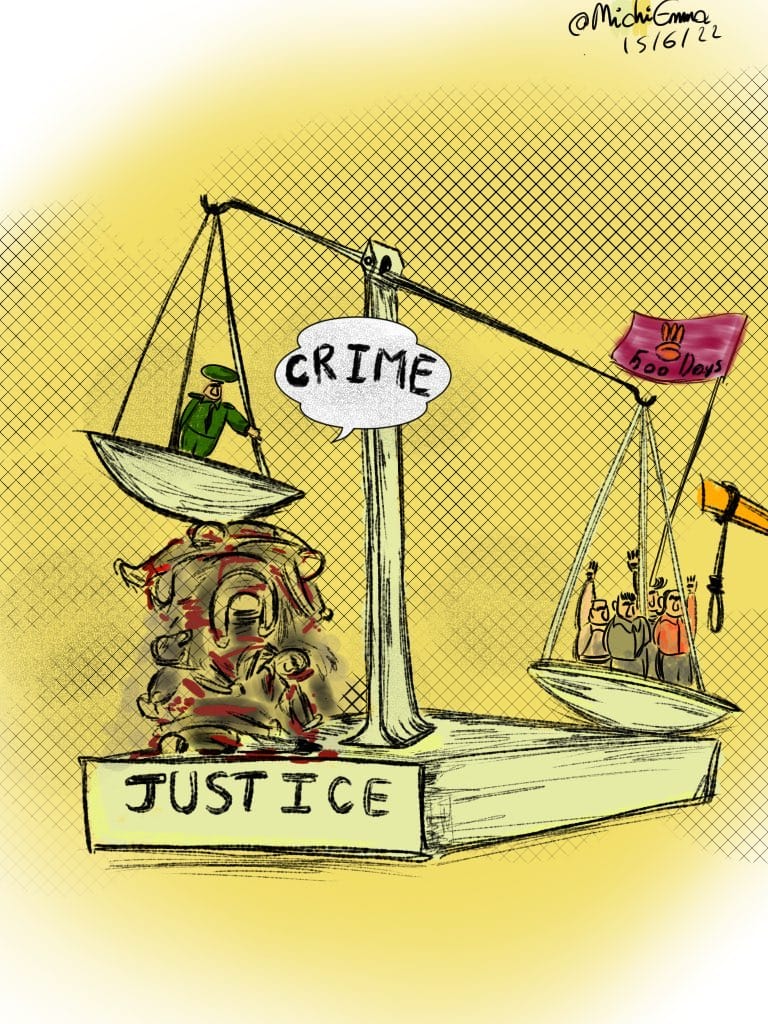 The Shadow of Death Penalty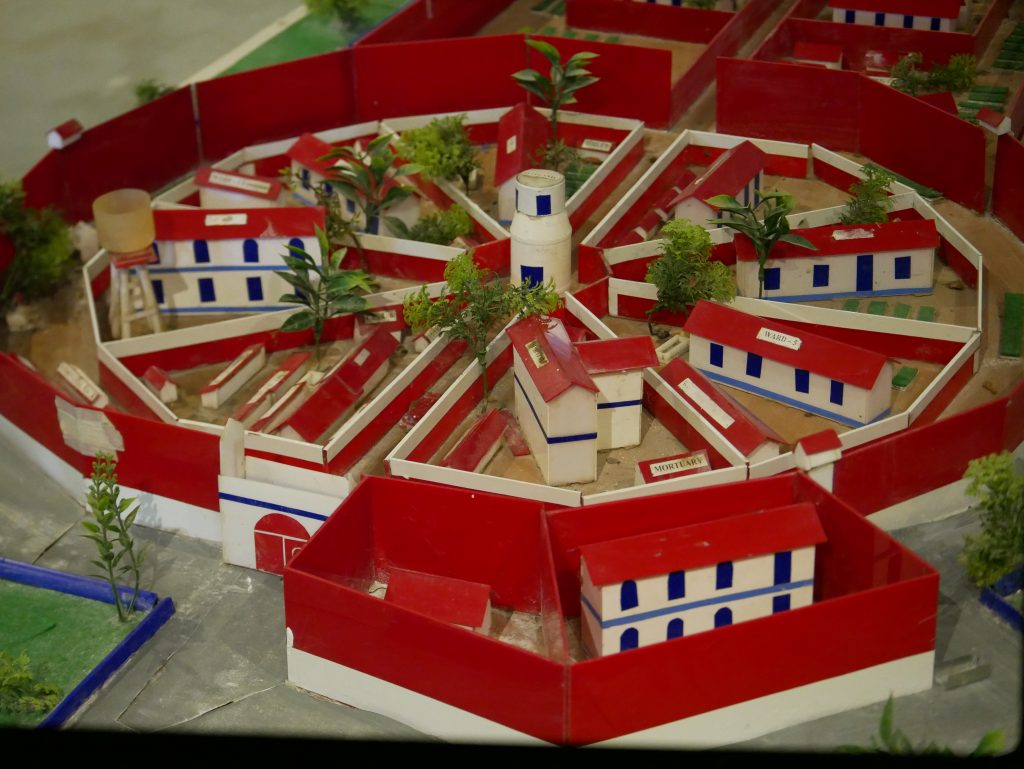 INSEIN PRISON, YANGON  – At a press conference in Naypyidaw on June 3rd, SAC spokesman General Zaw Min Tun confirmed the death sentences of four men after some so-called journalists demanded the execution of the convicted prisoners: Ko Jimmy, Phyo Zeyar Thaw, Ko Hla Myo Aung and Ko Aung Thura Zaw.
Ko Jimmy, 53 yo, a prominent 88 Generation student leader, was violently beaten and arrested by military council forces on October 23rd, 2021 in Dagon Myothit (North). He was taken to a military hospital with stab wounds to his head after the brutal raid. U Phyo Zeyar Thaw, 41 yo, former NLD MP and member of Acid, Myanmar's first hip-hop band, was arrested on November 20th, 2021 at Yadana Hnin Si Housing Estate, Dagon Myothit (Seikkan) Township. 
Ko Jimmy was accused of hiding weapons in his home and supplying ammunition to resistance groups. U Phyo Zeyar Thaw was accused of supporting terrorist groups and keeping stashes of guns, ammunition, grenades and explosives at two apartments in Yangon.
The military court also accused him of having Zoom meetings with the Committee Representing Pyidaungsu Hluttaw (CRPH), the National Unity Government (NUG), and People's Defence Forces (PDF), all of which are labeled as terrorist groups by the junta.
The court said he supplied weapons to assassinate pro-junta targets 35 times, masterminded 11 attacks and was complicit in over 100 bomb attacks. He was also accused of raising money from abroad to fund "terrorist activity".
The two were tried by a martial law military tribunal under Section 49 (a) 50 (i) and 50 (j) of the Anti-Terrorism Law and their death sentence was announced on January 21st, 2021.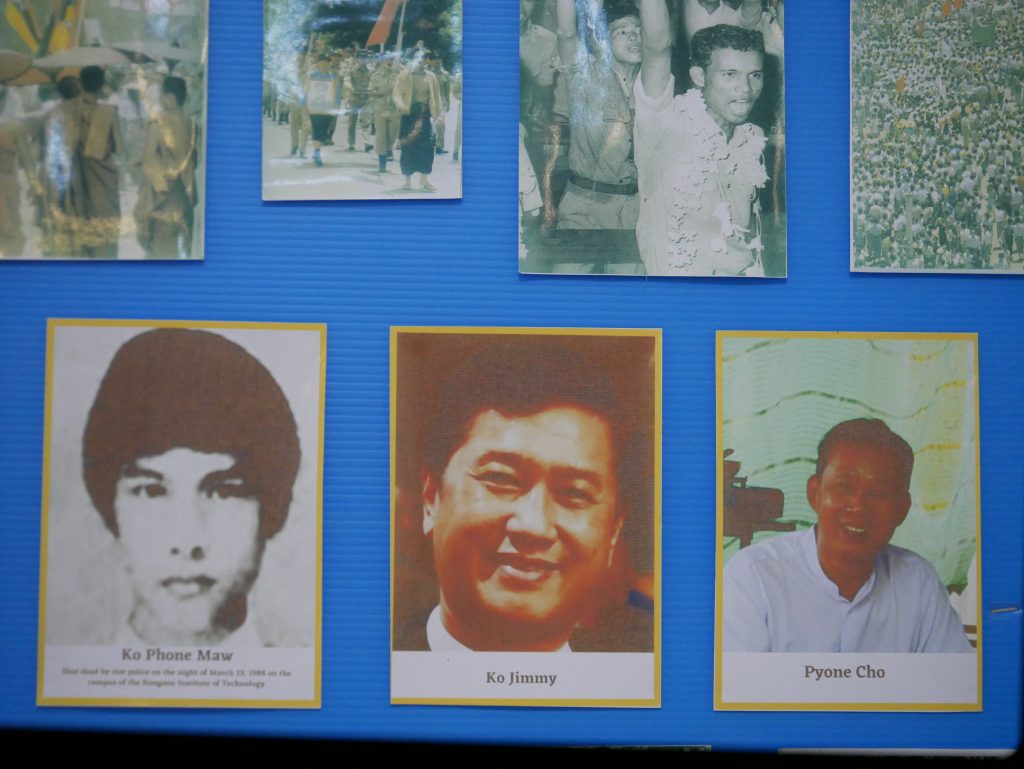 Ko Hla Myo Aung and Ko Aung Thura Zaw were convicted on charges of the murder of a woman that happened in their neighbourhood of Hlaing Tharyar township, Yangon.
The four men were not allowed to defend themselves against the military council's allegations. The military tribunal rejected the defendants' attorneys' attempt to appeal and sentenced them as they wished.
Death sentences have been given in Burma throughout Than Shwe's dictatorship, Thein Sein's era and the NLD tenure. A senior court lawyer said those prisoners were kept in death row but were never killed during those decades and that even Than Shwe directly issued directives not to actually execute those sentenced to death under his time. 
The executions under the SAC regime would be the first in decades though the military council has not announced a precise date.
Critics say that the current military council has no jurisdiction over cases such as the death penalty since they are not a legitimate government and that it has committed the worst acts of violence against the people in the history of Burma's military dictatorships. Therefore, anything can happen, say researchers.
More than 2,000 political prisoners are being assisted by lawyers in Insein Prison, where people sentenced to death during the Spring Revolution are forced by the military council to wear orange uniforms. Some have been charged in four to five cases. A source close to Insein Prison said that those who were sentenced to death had not been seen by other prisoners for more than two months.
According to the Assistance Association for Political Prisoners of Burma (AAPP), from February 1st, 2021 to June 27th, 2022, 11 241 people were detained, including more than 3000 who have been released. 1204 have been sentenced by a military tribunal, including 140 in absentia. 78 people were charged with long sentences from seven years to a life term. Of those convicted, 74 people were sentenced to death by a military tribunal, including two under the age of 18, and 41 in absentia. 
Therefore, a total of 115 people have been sentenced to death. Amnesty International stated in its Global Monitor of Death Penalty Report 2021 that this is almost eight times higher than in previous years. 
All civilians sentenced with the death penalty or to lenghty prison-terms were not allowed to defend themselves legally and were directly sentenced by military tribunals. Among them are university students, anti-coup protest leaders and NUG and CRPH People arrested for PDF related activities. They are mostly accused of involvement in the killings of village administrators and military informants after having attended armed training in ethnic areas.
People believe that if the sentences were to be actually carried on, the momentum of the revolution will increase. The Sagaing division-based Myanmar Defense Force (MDF) warned that it would retaliate if the death penalties were implemented.
On June 12th, people in Yangon staged a protest against the military dictatorship by hanging a banner at the entrance of Shwedagon Pagoda with the message: "The pagoda is closed today because the country is facing the death penalty". The protesters also called for a boycott of the pagoda the next day, which was the full moon day of Nayon.

On June 26th, civil society groups in Yangon, Mandalay, Sagaing and Chin State commemorated the sacrifice of Chin student leader Salai Tin Maung Oo. He was hanged at the age of 25 by the Ne Win regime in 1976. They recited Salai Tin Maung Oo's last words before he was hanged: "You can kill my body, but you will not kill my dream and vision. I will never kneel before your military boots!" 
After him, nine people were executed. In 1986-1987, three Karen resistance fighters were executed in Burma, for allegedly bombing a railway in Taungoo, Bago. "Now, the situation has changed and death penalty must not be implemented anymore according to the Universal Declaration of Human Rights." said lawyer Khin Maung Myint to RFA. 
"The last execution took place on March 20th, 1988. After that, the junta ruled. The Article 3 of the Universal Declaration of Human Rights states that only the Supreme Court, appointed by a government elected by the people, can uphold the death penalty. That is why more than 300 prisoners who were sentenced to death were not executed across the country even during the 1988 uprising". 
At that time, death sentences were commuted to life imprisonment and life imprisonment sentences were commuted to ten years of jail. Under the following governments which were elected by the people, death penalties were always reconsidered too. 
The French, US and British embassies in Yangon issued statements of "extreme concern" for the treatment of the four men and demanded respect for the dignity and fundamental human rights of prisoners, including the release of those detained since the military coup and the immediate provision of adequate medical care.
Cambodian Prime Minister Hun Sen said that he wanted the SAC to reconsider its decision because they will encounter fierce opposition and face consequences within the Association of Southeast Asian Nations (ASEAN) if the pro-democracy activists are actually executed.
The only answer from the military council spokesman, General Zaw Min Tun, was to ask at a press conference how the perpetrators of such murders should be punished if they were not sentenced to death.

/ UPDATE / "The darkest hour is just before the dawn"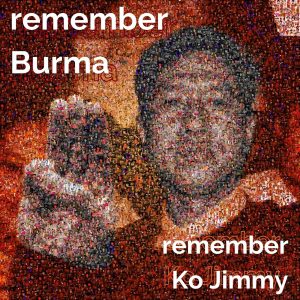 On July 24th, 2022, the SAC announced that the four men had been executed.
Rest in Power Ko Jimmy, Ko Phyo Zeyar Thaw, Ko Hla Myo Aung and Ko Aung Thura Zaw.
Please read Nilar Thein, Ko Jimmy's widow, powerful essay on how her family and country have been shattered by military dictatorship. She concludes by 'There is no going back'.

"On December 10th, 2022 for International Human Rights Day, @MyanmarAProject & @AAPP launch a campaign for all the heroes of Burma who stand up every day for the bigger picture – a democratic and free Burma. This picture is shaped by the memory of all of those who gave their lives in this fight. We call on you to #RememberMyanmar "