The March of Myanmar Women
Chiang Mai,  Thailand // On International Women's Day, the northern city hosted the first Myanmar's Women's summit. Women from all nationalities and backgrounds with their allies then took over the streets of the Old Town streets for a joyful and powerful march of unity.
The summit was hosted by the Thanakha International Gender Tekkatho, a research-based educational initiative that aims to educate and inspire women. It was the first formal and academic symposium to discuss the situation of Myanmar women from all walks of life. The participants discussed themes ranging from women leaders, political prisoners, people involved in the Civil Disobedience Movement (CDM), monks, artists and women who have engaged in armed struggle. 
Dr Khin Mar Mar Khin, an advisor on gender and child protection in Myanmar affiliated with Oxford University, pointed out that in spite of the fact that her country is under the rule of dictatorship since the military seized power in February 2021, it is important for women to continue to fight for their rights. 
During the political upheaval, women empowerment has been set aside as the secondary issue, but many activists believe that it is important to engage women in the decision making dialogues and the reformation of the country in a simultaneous process. 
Thousands of Burmese women have become resistance fighters on  the frontlines of the war against the junta soldiers. Many chose other ways of participation in the revolution. "When we talk about the conflict in Myanmar now, we don't only talk about the physical fight but also the soft power struggle," said a female Burmese artist currently living in exile. 
"The authoritarian regime has used a lot of soft power to shape our opinions and force concepts in our minds, so we need to counter it with art, music and every possible way."
In the evening, the network of Myanmar women and gender equality groups gathered at Thapae Gate public square. The rally was led by activists in wheelchairs and joined by ethnic groups, migrant workers, sex worker advocates, LGBTQ+ communities, elderly women and left-wing activists.
The protesters shouted in Burmese, Thai and English "Say it loud, say it clear. Refugees and migrant workers are welcome here. All women are welcome here!"
Since the coup d'Etat, many Burmese migrants have flooded into the neighboring country, including women from diverse backgrounds. Women rights movements have been stressing the importance of non-discriminating and tailor-made policies that take into consideration such differences and nuances in their political and socio-economical needs.
"This year, the theme of our Women Exchange Get Together is 'Women and Mixed Migration'' said Ying, a Shan woman who joined the annual conference held on the same day by local civil society organizations in order to create space for women leaders in the Burmese diaspora communities. "Because Myanmar women should not be viewed only as economic migrants but also as people with rich diversity of skills and perspectives"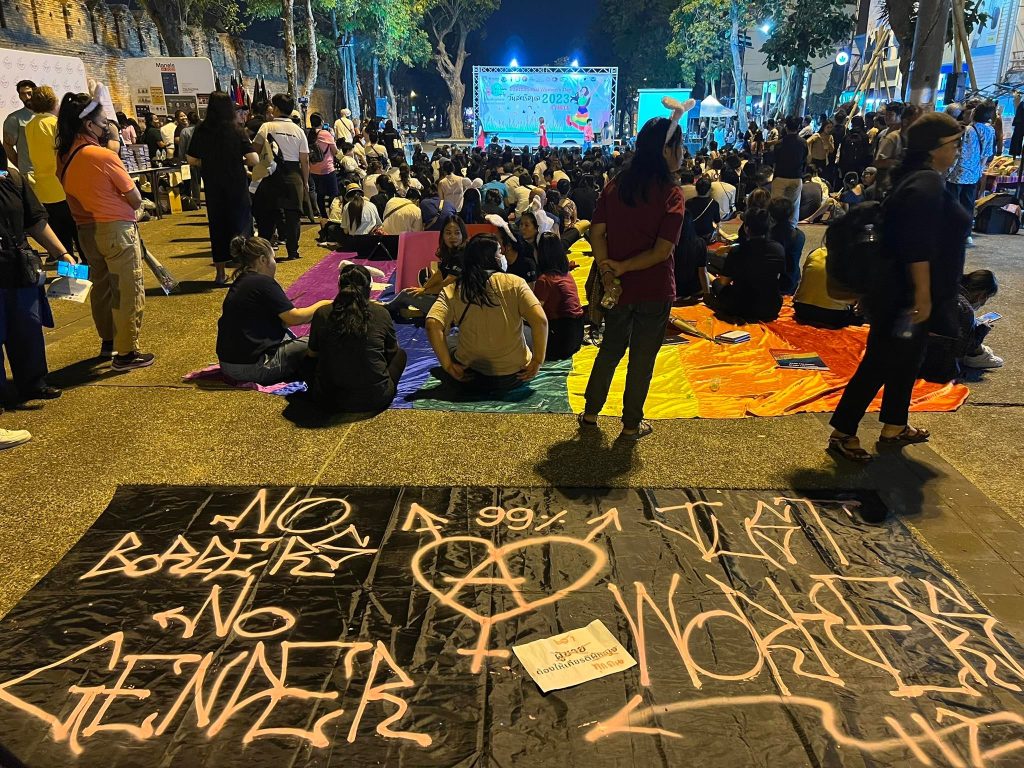 ==> Watch our videos on The Chiang Mai March for International Woman Rights Day