Surviving in Cities of Crime and Despair
YANGON // Before the coup, it was pretty safe to go out in the late evenings in Yangon and even to walk around the night markets. Since the early days of the military takeover, violent crimes of theft and robbery have been happening every day.
According to footage evidence which spread shortly after the anti-coup demonstrations began in February 2021, at the time the Burmese military hired people for 5,000 MMK (2,50 USD) a day to attack pro-democracy protesters. Other chilling rumours, supported by many citizen videos, circulated: drinking water tanks being poisoned, teenagers and former prisoners being drugged, brought into the streets in army trucks or ambulances after 10 pm and paid to set fires in all major cities.
On February 12th, 2021, 23,000 common prisoners sentenced to life imprisonment or the death penalty were pardoned by the military government, including accomplices in the assassination of Muslim lawyer Ko Ni. The legal advisor to Aung San Suu Kyi was killed in January 2017 outside Rangoon airport in broad daylight. Kyaw Win, director of the Burma Human Rights Network (BHRN), spoke of an old method: "The ruthless junta sends thugs to set fires in the middle of the night in residential areas. The local people caught them but decided not to hand them over to the police, whom they do not trust. It's similar to what happened during the 1988 uprising, where the military uses chaos to detain people and incite violence, then appears as saviours to restore order. It's very scary." In August 1988, a series of protests and marches organised by university students in Rangoon were crushed in blood after a coup by the State Law and Order Restoration Council (SLORC) and thousands of people lost their lives.
In order to protect their communities, residents in each neighbourhood or town gathered and formed watchmen groups in February 2021. But the military council was swift to arrest these night guards and since then people spend their nights crippled by anxiety and fear.
Since the early days of the anti-coup demonstrations, many pickpockets roamed the protest areas and cases of robberies and kidnappings have increased all over Myanmar. On my way back from covering the first Silent Strike on March 24th, 2021, I was followed by three men in their twenties near San Pya Market Road. They jumped off their motorbikes, repeatedly hit me on the chest and stole my phone, camera, and money. I think it was a random attack because I look like a student protester. If they had known I was a reporter, they would have finished me off. I had fortunately locked my phone, but for a long time I had no resources to report anymore.
Initially, only robberies were reported, but in the last couple of months, more people got killed after they tried to resist thieves armed with knives.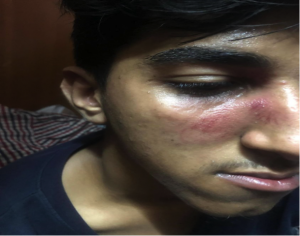 A 20-year-old man from Yangon who was robbed repeatedly said: "Nowadays, I have to be careful wherever I go. I don't even dare to ride the YBS (Yangon Bus Service) because there are so many pickpockets and phone stealers in there. I have had three phones stolen now. And the price of the phones have gone up so it becomes very difficult to buy a new one. I have to use the phone we share in my house."
The young man also wishes to share the story of his brother: "My brother was kidnapped. He was handcuffed and taken away with a knife. When I called him on the phone, someone answered and said that if I paid 5 lakhs (250 USD) via mobile banking transfer, they would release him. Only after I sent the money, they released him but kept his phone"
Some of the increasing number of robberies are carried out by policemen themselves. In August 2022, a resident from Chan Mya Thar Si Township in Mandalay said that he went to the police station to report the theft of his motorcycle while he was sleeping. As he entered the courtyard, he saw the commander of the police station riding his motorcycle. So he couldn't do anything but go back home…
A similar incident occurred in Dawei, Thanintharyi division. In a surprising move, the police organised a ceremony to return the motorcycles that they stole from the people. A resident said, "they want to improve their names in the public eye. That's why they twisted the story like this".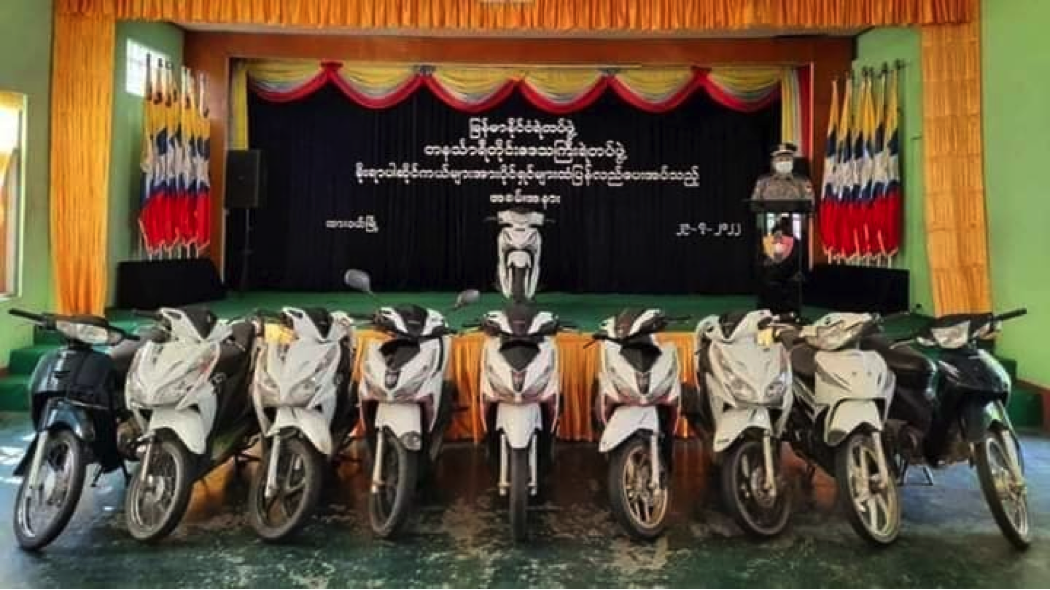 Policemen and soldiers are also busy raiding hostels and scanning guest registration lists. A young woman living in a student hostel in Yangon said, "On the night of August 7th, 2022, they came into the girls' dormitory wearing military boots. They said that they were checking if no extra people were living there compared to the names on record. We had to show our registration cards and they also checked if there were any people registered in Sagaing Division 5/ or Magway Division 8/. We were relieved as no people from those areas were staying in our dormitory as we heard that they would have been taken to be interrogated as their hometowns are hotspots of the anti-military resistance. Even so, all of the girls had to sit out on the road in the middle of the night." 

According to our research, many disappearances of young women and men have occurred throughout the month of August. Some of the missing people who were found again reported having been drugged with a drug known as Tohsay (တို့ဆေး) and that made people lose their consciousness momentarily. Some were arrested and never found out again straight after soldiers stopped them on the street to check their phones.

On top of being constantly scared, people are chronically anxious about their next meal. Since the coup, the prices of gold, basic goods and fuel have steadily risen up.

[Read our short news about the exorbitant rise in basic consumer goods ]
In July 2022, the World Bank stated that poverty in Myanmar has doubled compared to March 2020, with more than 40% of the population now living below the national poverty line, wiping out nearly a decade of progress on poverty reduction. 
A manual worker said, "Before, even if we couldn't afford fresh food, we could still buy and eat a batch of noodles with 200 MMK. Now, even the usual noodle pot costs 700 or 800 MMK. How are we going to eat? Until Min Aung Hlaing dies, it will only get worse". 
A Frontier Myanmar review of online media reports found references to 44 deaths by suicide – 30 men and 14 women. On the morning of August 25th, a 58-year-old man jumped from the overpass bridge of the Kabar Aye Pagoda Road, Yangon. On August 28th at 3 PM, a 24-year-old lady jumped from the Pyay-Nawa Day Bridge with her three-year-old daughter out of despair. 
In November 2021, the NUG Ministry of Health has launched an online counselling service called တိုင်ပင်ဖော် (Taing Pin Phaw) which is led by medical doctors and open to everyone who feels the need to be helped with mental health issues.