Shan Women Lost Dignity and Safety
Pa-O Autonomous Region, Southern Shan State // After the coup, the question whether the life and dignity of women are less valuable than a bird is over-present. In Southern Shan State, a number of women have since been sexually assaulted, shot and killed and no one took responsibility except by giving some money. 
On June 14th at around 6 pm, 23 years old Nang Kham Awn was shot by Kaw Wi Da, a member of PNO\PNA (Pa-O National Organisation / Army) in Sai Khaung San Pya village, Hsi Hseng Township. 
Kaw Wi Da interfered in an argument between a villager from Sai Khaung Thiri and another villager. When the villager of Sai Khaung Thiri shouted at him back, Kaw Wi Da became angry and shot him with a gun. But it's Nang Kham Awn, who was on her way to her sister's shop, who was shot in the head instead of him. And she died on June 21st while being treated in Saisan Tun Hospital.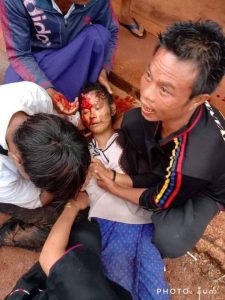 "The dead girl is worth less than a bird. If the bird accidentally died, the owner could bury it, cook it, eat it or he could do whatever he liked. But her parents were not even allowed to do a funeral as they wished and they had to take the orders from those who owned the rifles even after her death." said a woman from Hsi Hseng. 
Her parents wanted to take her body back to Hsi Hseng Township, Sai Khaung for burial but PNO\PNA group pressured, threatened, negotiated and didn't allow them to do so. That's why she had to be buried in Taunggyi. "At first, they refused but they had to eventually accepted," said a man close to her family. 
When Kham Thar Ngwe from the News and Information Department asked about that to U Khun Myint Aung, People's Army Commander-in-Chief of PNO\PNA, he said," I didn't know anything about that. I'm in the jungle. Go ask the one who was responsible for that area." So, Kham Thar Ngwe tried to contact someone in charge from that area but they couldn't reach. 
After Kaw Wi Da shot and killed Nang Kham Awn, he fled. On June 25th, the PNO\PNA men in charge came to solve the problem. They paid 30 lakhs as compensation to Nang Kham Awn's family and they decided that Kaw Wi Da had to take responsibility for the almsgiving and the cost from the funeral. 
Locals say, " when the case was being solved, PNO\PNA militia said that the complaint that has been filed at the police station has been dropped by the police". People in Southern Shan State have been avoiding pursuing armed cases in the past because they don't want to be involved with the militants. There have been reports that Kaw Wi Da is taking refuge under the PNO\PNA militia leader. 
A local resident, who didn't want to be named, said, "the murderer could be arrested in no time if the armed group really wanted to arrest him. But, they didn't want to harm their own people. There are people from their group in every single village. If they actually wanted to arrest him, they could share the identification of the murderer to their people so he could be arrested easily. Now it has become the normal that they just pay a small amount of money after they killed residents."
Earlier on, on April 1st, 2019, PNO\PNA militia member U Phwar shot and killed two children who were about to become samaneras (novice male monastics) at Mae Hae Monastery in Tabet village, Hsi Hseng Township. He paid 80 lakhs to the families and closed the case. 
The PNO made peace in 1991 with the central government under the leadership of PNO leader, Aung Kham Htee. The PNO party as well as the PNA, their armed-wing militia, are close allies to the military regime. That group won all three elections in 2010, 2015 and 2020 in the three townships of the Pa-O Autonomous Region, Hopong, Hsi Hseng and Pinlaung.
"The death of this girl was known about by many people because of the news spread on the internet. Many other girls had to settle their sexual harassment case against money. So, the perpetrators think they can solve it with money and continue committing crimes. That's why we condemn it and want justice to be served," said a member of the Pa-O Women's Union. 
She explained, "It means you can do whatever you want with money and that now there are no rules of law in the country. So, we need to find a way to make the issue known internationally. Then, the perpetrators might not dare to commit such things again. This way of solving with money is an insult to people's dignity and to women's dignity."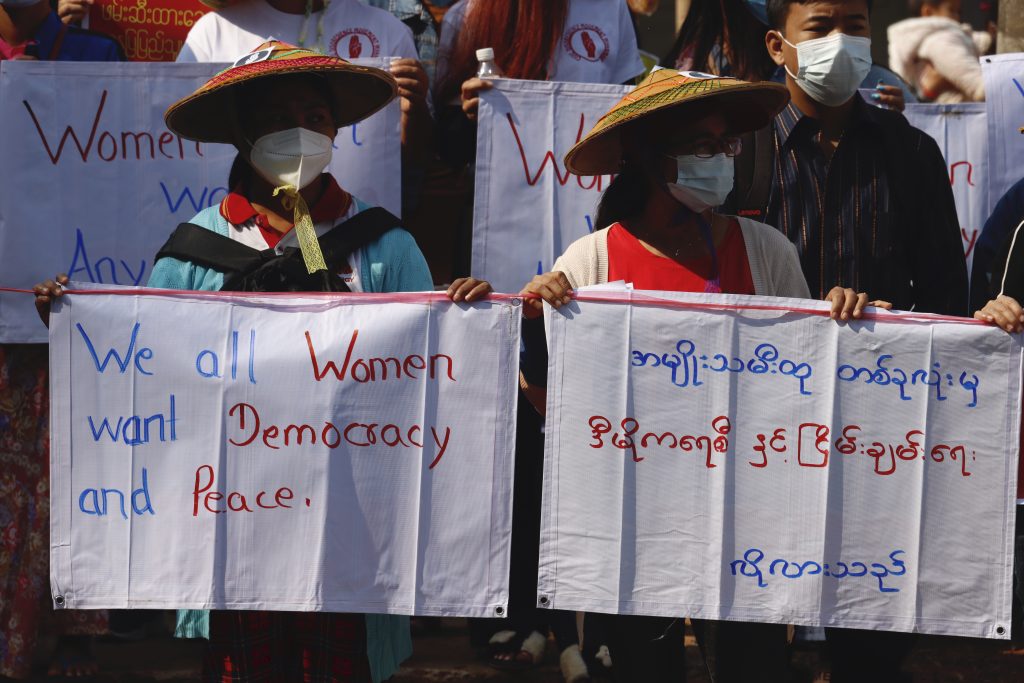 Some women dare not speak out because of shame and fear. And, some parents dare not speak out when they are dissatisfied about what is being done to their children and they simply nod their heads because they are afraid that they can be killed at any time.
After the coup, there have been a few battles in Pa-O territory. In Danu, there has been some cases of lack of respect and sexual harassment of women at checkpoints. Many question whether the life and pride of women have any worth. 
A member of the Pa-O Women's Union said, " we, women, are suffering more because there is no rule of law and the power is at the tip of the gun. Not only in Shan State, but women in the whole country need to find other ways to express their feelings and defend their rights."
In Southern Shan State, phones were checked by the military council at the checkpoint of the intersection of Myaing Village, Ywar Ngan Township, and Bayargyi Village. There, a young man was forced to kneel down because his phone was malfunctioning and a woman was sexually harassed. 
"My phone screen is broken and also the device is a bit old. It can't open Facebook and Messenger. So, they make me kneel down and hold my hands up in the air for about two hours. To the woman, they told her that she had to choose whether to be arrested or to kiss their cheeks. She had to kiss them because she didn't want to get arrested." said a Danu youth from Ywar Ngan Township.
"After the coup, the lives of women are not safe anymore. There are sexual harassment at the checkpoints and I experienced it myself. But there is no rule for that and we can't complain about it to anyone. We dare not speak out because we are afraid and feel insecure even though we are not satisfied." said a member of the Democracy for Ethnic Minorities Organisation. 
She continued, "In the past, women felt safe to work and to study in other cities and parents also allowed them to do so and help them. But after the coup, parents are worried that their daughters will be in danger. Most of the parents forbid their daughter to move because the political situation is not good, they thought the girls have to stay in their own cities, and they can't know anything if something happened to their daughter. So, women lose their rights."
She added that she hopes any civil government, including NUG, will make perpetrators take responsibilities for the safety, opportunities and sexual harassment of women. If they kill a woman, they need to be punished and they must take responsibility for the rest of her family too.
Then she explained, "as an ethnic group, we have some hope in what the current NUG Government is doing but we don't have full confidence in them. They also have their limitations. We can see how many women are included in their process. We still have to wait and see whether those who are involved have full rights to act or not. Another thing is that we have to know how many ethnic groups are involved and we still have a doubt whether they gave them their full rights and opportunities or not."
At the moment, women have to stay in their own villages and don't go to other cities because they don't want to pass the checkpoints. 
A woman activist said, "Who can help our women? If there is some place where we can be helped and complain about abusers, please guide us. Not to mention ordinary women like us, even Aung San Suu Kyi, who is known all over the country, is not helped by the United Nation except by statements of condemnation. Even Daw Aung San Suu Kyi and Karen State Minister Daw Nan Khin Htwe Myint Taung were not imprisoned in the same way. If they dare to imprison 70 years-old Daw Suu, the fate of ordinary women or belonging to ethnic groups will be even worse. I don't know who is helping or whom to rely on, but if there are people who can do anything for us, we would like them to inform us."
Women expect a law to effectively prosecute sexual abuse of women and underaged girls after the uprising. 
She concluded, " We want a country where the power of the country belongs only to its people. And we want to request to value the life and dignity of the women because women are also human beings and not the hostages of war."