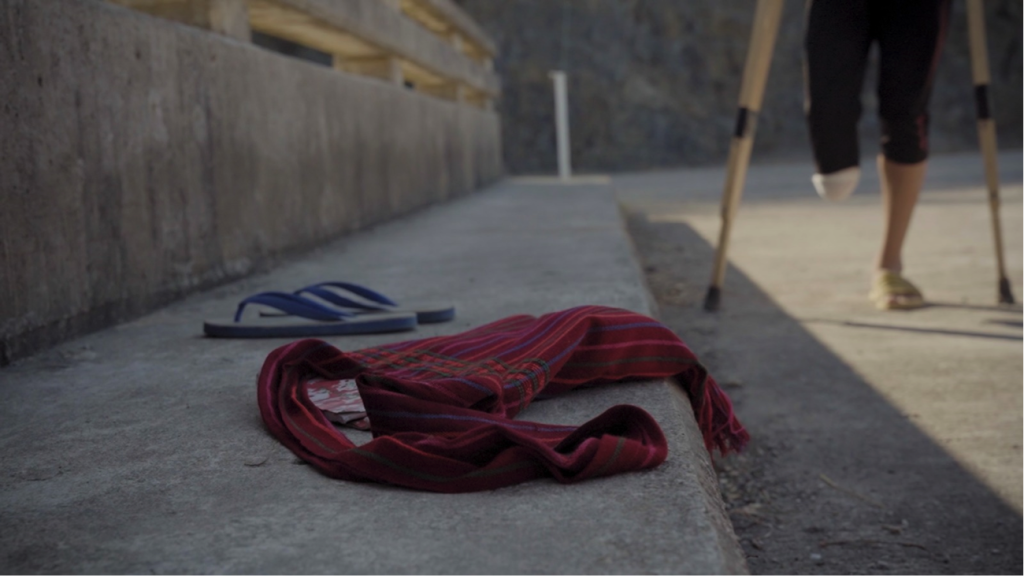 Myanmar's Mine Fields: Into the Shattered Lives of Refugees and Fighters

Chapter One // The peace-less life of a hunter on the run
[ KAYAH STATE, EASTERN MYANMAR ]
By KYH 110 / Visual Rebellion                                                                                               

"Boom——", the land mine exploded suddenly…Here is my leg…my heel is hit… 
"Dad! Your leg is gone!" My two children are crying. 
U Phoe Yi lives in a temporary refugee tent after fleeing countless war zones. At the age of eighty-three, he is now retelling the tragic incident that occurred nearly five decades ago, as he sought bamboo in the forest. His left leg required amputation from the knee. His daughter-in-law recalls it happening around 1974, and that it has now been forty-eight years with only part of his leg. He and his 12 children survive his wife, who passed away fifteen years ago.
The last home he had to leave was in 6 Mile Village in Demoso Township, not so long ago. Since the military coup of February 2021 there have been many conflicts, intensifying over from May of the same year. U Phoe Yi was again forced to flee. 
Currently, he sits in front of a tent on a handmade deck chair made of old hemp bags. This is a typical day in his life as a war refugee, where he is afforded no opportunity to engage in the old activities that kept his family alive, and that made him happy.
"I used to go to the forest with my bamboo toolbox shoulder bag. I brought my traditional drill gun. I gathered long grass to make a thatched roof. My wife tried to discourage me from going. However, gathering grass was a necessity. I needed the grass to cover the roof of my house. Also, I would sleep in the forest for days to hunt for pleasure, not survival." Inside his refugee tent are a gun, some short knives, and bamboo shoulder bags. These items reflect his old life,  of survival on the land.

U Phoe Yi smiles, showing off his teeth, and a flair for irony: "Here, you see my teeth are gone. They are not gone due to my old age but because of a cow attack while I was putting a muzzle on a cow's mouth. Three of my teeth broke in the accident."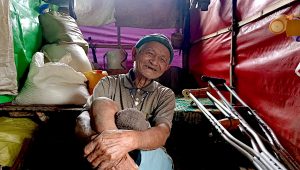 Despite the loss of his leg, he worked as a farmer for most of his adult life, and trained cows and horses to attach to carriages and bullock carts. 
Now, he depends on crutches to get around the war refugee camp because his prosthetic leg is lost to him. Forced by the fighting to escape in a hurry, even his most precious possessions could not be retrieved.
In the months following the February 1st military coup, tragedy repeated itself for U Phoe Yi's family. Land mines are especially prominent in Karenni / Kayah state, with different kinds set up by military troops on the ever-shifting battlegrounds. As a consequence, many ethnic army soldiers as well as civilians continue to lose their lives and limbs. This time, it was his grandson whose leg was taken, in battle.
U Phoe Yi subsists in a war refugee camp in the western part of Demoso, where another ten people over the age of sixty are staying too. Since the coup, the elderly who have been displaced are dependent solely upon donations from civilians and aid organisations to meet their basic needs. For U Phoe Yi, living in the camp with his daughter-in-law and three grandchildren, these donations are their only source of sustenance.
Forty-eight years ago, a land mine deprived U Phoe Yi of much of his livelihood, and has since made it difficult for him to engage in pursuits that bring him happiness. 
"We cannot go back home. If we go back, we will be shot in the head en route. I want to go back home but not now, not yet."
Despite their restless lives, they continue to hold out hope for peace to return to the region, one day.  
Two years and a half after a junta led by General Min Aung Hlaing seized power, Myanmar remains embroiled in nationwide conflict. Armed pro-democracy fighters organised in Local Defense Forces (LDF) and People's Defense Forces (PDF) are thwarting the regime's attempts to consolidate control in many parts of the country. However, the continuous battles are taking their toll on fighters and civilians alike as the Myanmar military attacks refugee camps, schools and religious buildings with the purpose of breaking popular resistance – and all forms of life itself. 

CHAPTER TWO // A brother in arms lost at the frontline
[ KAYIN STATE, EASTERN MYANMAR ---> TAK PROVINCE, WESTERN THAILAND ]
By Aey Sahattaya

Thirty-year-old "Kyee Kan"* is a former PDF fighter, the armed wing of the National Unity Government (NUG) that was formed in May 2021. He and his younger brother together oversaw a unit that used drones to scout and bomb enemy positions.

In April 2021, Ko Kyee set aside his work as a videographer in the city to undertake a month of military training with the Karen National Union (KNU). He and his comrades were deployed to the frontline in November. The immediate challenge facing them was limited firepower. Kyee Kan recounts the night of April 2022 when they were forced to improvise bombs: "We found out that we didn't have enough ammunition. We had to make explosives urgently, but we didn't get the materials we needed ".
An accident happened in the hands of a young comrade who had joined the front line very first time that day. "Suddenly, I saw a flash of yellow flare. My younger brother called my name twice," he recalls. "I wanted to help him, but I didn't have a leg anymore." His brother and five other members were killed when dozens of their bombs unexpectedly exploded. Kyee Kan lost his right leg in the accident.

The former fighter says he and his brother accepted the dangers in their work as an inevitable price of armed struggle. "We had to go to the frontline of the battlefield many times. We were already mentally prepared for the fact that one day we might be wounded."
Kyee Kan says his younger brother named their unit after a type of skylark. "We were determined to fly to the end for freedom, justice and equality."
Since the incident, Kyee Kan has stayed in neighbouring Thailand to recover both physically and mentally. But he continues to fight for democracy from over the border. 
In July 2023, he starred in the 19-minute pro-democracy short film, "Our Turn!", directed by internationally acclaimed Myanmar filmmaker Na Gyi. The cast includes Aung Myint Myat and Paing Phyoe Thu.
Kyee Kan played a former football player who recently lost a leg during the revolution. Most of the cast and crew have revolted against the military junta and consequently had to flee Myanmar. "This short film is inspired by true events," says the director, Na Gyi. "Kyee Kan is the living proof of what is happening in Myanmar."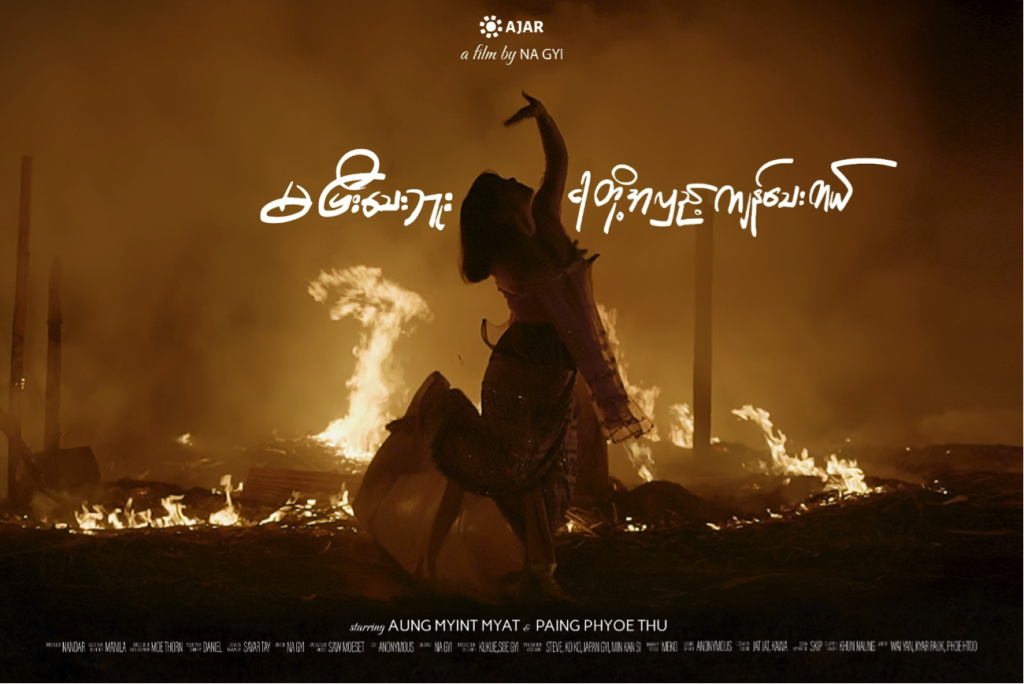 Our Turn! has been showcased in 14 countries and 37 cities worldwide, including secret screenings in Myanmar. The primary purpose of the film is to acknowledge the victims of the Myanmar junta's brutalities, shedding light on their plight. Additionally, the film aims to generate humanitarian assistance for those impacted by the enduring conflict. It was supported by Asia Justice and Rights (AJAR).  
"A revolution isn't just about taking up arms," says Kyee Kan. "Since losing my leg, I've suffered occasional bouts of depression. But then I remember — I've already sacrificed a leg, so there's nothing else to fear. I just want to help people who can do the things I can no longer do."
Kyee Kan runs a social media channel that features a former comrade who also lost a leg in the conflict. The pair have made videos about coping with disabilities in a foreign country, and cooking together.  They use the channel to raise money for supplies they send to people in displaced communities back in Myanmar.
"Our work here is not done," says Kyee Kan.
[ *a pseudonym ]


==> Read a version of this story as well as a TV report on NHK-Japan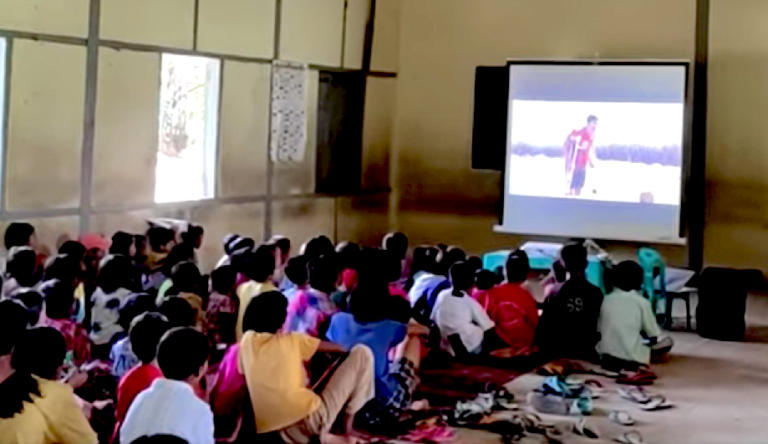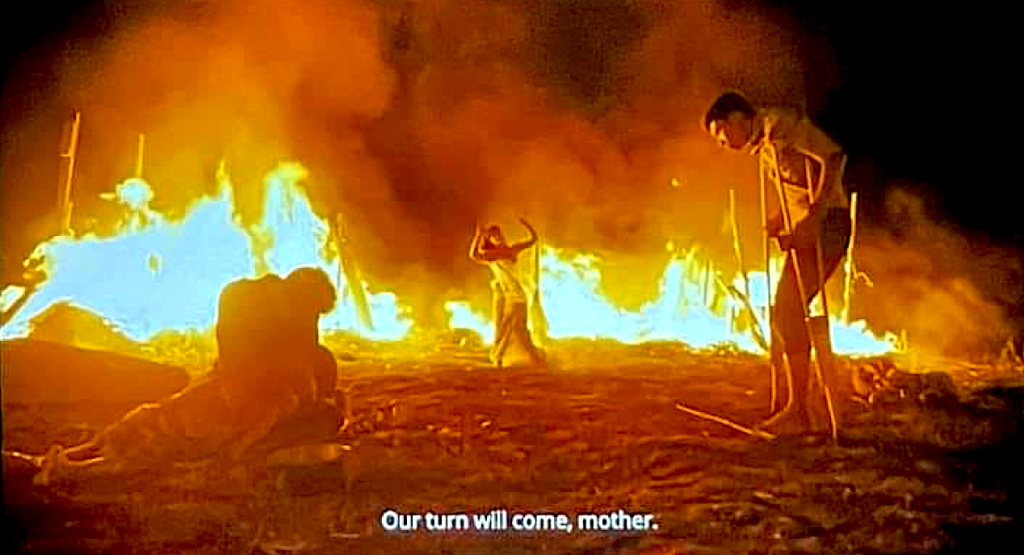 A screening event of 'Our Turn!' in an undisclosed location in Myanmar
MYANMAR MINE EPIDEMIC 
Alongside China, Israel, Russia and the United States, Myanmar remains a non-signatory to the Mine Ban Treaty, aimed at eliminating the use of anti-personnel landmines globally.
By Hsu Mon Phyo 

In 2019, the Landmine and Cluster Munition Monitor reported Myanmar as the only nation in the world to have engaged its own security forces in the active deployment of landmines over the preceding year, from mid-2018 to October 2019. 
Myanmar's use of landmines has grown exponentially since then, with conflict spreading across the country in the wake of the coup. In 2021, casualty rates caused by landmines and Explosive Remnants of War (ERW) in Myanmar were the fifth highest in the world. 
"Civilians continue to bear the burden, both adults and children," said the representative of an international mine action organization who, due to the sensitive and ongoing nature of the matter, cannot be quoted directly.
According to their data, incidents during the first ten months of 2022 show that the 333 casualties reported countrywide were up 117%, in comparison with those reported in 2021. This indicates increasing contamination at the same time civilians are being used by armed forces as human shields to push through contaminated areas.
The organization notes the use of anti-personnel and anti-vehicle mines, with further reports of possible cluster munitions to be confirmed. Improvised Explosive Devices (IEDs) have been increasingly deployed, mostly by Ethnic Armed Organizations (EAOs) / rebel groups in guerrilla attacks. Yet additional contamination exists in the form of Unexploded Ordnance (UXOs) – explosive weapons that failed to detonate and still pose risk of detonation – such as bombs and shells – with use by the Tatmadaw and EAOs widely reported across the country. 
Before the intensification of conflict in 2021, landmine contamination was found in an estimated 97 townships – the leftovers of conflict between the Tatmadaw and EAOs, mainly in borderlands, with northern and eastern areas most heavily affected. The ongoing nature of the conflicts has made it impossible for formal estimates regarding mines to be established as the first step in addressing the threats they pose to civilian lives.  
Currently, it is suspected that all states and regions in Myanmar are contaminated, as Mine Action organizations attempt to piece together information through surveys in collaboration with affected communities. 
Parallels can be drawn between Myanmar and Syria and the Ukraine, acknowledges our organizational contact, in terms of the targeting of civilians, the censorship of information, the formation of new militias and armed uprising of civilians, and the blocking of humanitarian convoys. However, while the conflicts in Syria and Ukraine have seen the intervention of foreign support/fighters, Myanmar never has. 
Our contact describes the Myanmar context as being unlike many others due to its ethnopolitical layers of conflict, some of which have been ongoing since the 1950s, when the Bamar-controlled military reneged on the 1947 Panglong agreement for a federated union.  Conflict dynamics in Myanmar have been complex even prior to the coup, with EAOs fighting for autonomy and territory across the country. This complexity means that there is not always unity towards fighting the Tatmadaw as the common 'enemy', but rather the coup has in some cases reignited or further fuelled conflict between EAOs. 
Myanmar-wide, there is a long history of resistance to repressive military rule. In recent decades, this has resulted in 'looser' military control, rather than the abolishment of the military. According to our contact, the current conflict could change this. The coup has added new elements to the conflict, with the creation of the NUG and PDF groups, whose roles in the long term have yet to be seen.
"The impact of landmines and UXOs in Myanmar will continue to be felt years from now. As examples, in Cambodia; we have been working for over thirty years, in Laos for more than thirty years and in Viet Nam twenty years. Civilians in these places continue to bear the burden of landmines and unexploded ordnance, which affect livelihoods, and the development of infrastructure, particularly in rural areas."
In closing, our contact reinforced that neither clearance, nor in-depth surveys are possible during active conflict, especially in the Myanmar context, due to risks both to human life, and the likely scenario that the country faces further and continued contamination.
==> Follow updates by the Myanmar Peace Monitor, which is run by Burma News International (BNI). It is the country Partner for the Armed Conflict Location & Event Data Project (ACLED), which is a global disaggregated data collection, analysis, and crisis mapping project.
This story was produced with the support of the Myanmar – Thai Media Workshop organised by Visual Rebellion and Spirit in Education Movement (SEM).